Breffni O'Rourke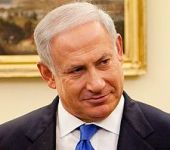 As part of a strategy by Israel to improve relations with moderate, secular countries of the Islamic world, President Shimon Peres is visiting Azerbaijan on June 28. In the first trip by an Israeli head of state to Azerbaijan, Peres will hold talks with Azerbaijani President Ilham Aliyev and other officials. Azerbaijan is of key importance to Israel, in that the Jewish state gets 20 percent of its oil from the former Soviet republic. And possibilities are being investigated for Israel to also buy big quantities of Azerbaijani natural gas.
Oil And Gas
It's not surprising, therefore, that Azerbaijan's $3.5-billion energy trade is likely to feature largely in Peres's talks in Baku. For the Azerbaijanis, interest centers on the possibility of cooperation in medical research and various high-tech fields, and of importing Israeli agricultural products. Baku may also be interested in buying more Israeli arms, after its initial purchase of hundreds of millions of dollars' worth of ammunition, mortars, and radio equipment. Azerbaijan, which remains locked in a dispute with neighboring Armenia over Nagorno-Karabakh, has dramatically stepped up its military spending in the past five years; this year's budget alone is $2.5 billion.


Israel's ambassador to Baku, Arthur Lenk, told RFE/RL's Azerbaijani Service that the two countries have good relations. "We are two small countries living — I'm not sure how a diplomat would say it — living in 'complicated' regions, and we have a lot in common," Lenk said. "We are looking to build up our countries to be more safe, we are trying to live reasonably with our neighbors, we are trying to find ways to develop our countries, we are trying to find ways to live in a complicated area in peace and security."
But beyond the economic value of the visit there is the symbolic value of Israel being able to add another name to its roster of Muslim-majority nations with whom it has "warm and friendly" relations. Envoy Lenk points out that Turkey, Egypt, and Kazakhstan also fall into this category. But he sees a special human bond between his country and Azerbaijan because of the long-standing Jewish community in Azerbaijan, and conversely the presence of many Azerbaijan-born people in Israel.
Wary Of Iran
The two countries have another common bond — namely, their wariness toward regional giant Iran.
In May, Azerbaijani media carried comments by Iranian military chief of staff Hasan Firudabadi warning Baku that a visit by the Israeli head of state would be an "incorrect step." Firudabadi was also quoted as saying that the visit seems not to be a friendly gesture toward Tehran.
Azerbaijani Foreign Minister Elmar Mammadyarov subsequently criticized the Iranian reaction, saying Baku would not accept any interference in its affairs.
In a June 1 editorial, the leading Israeli daily "Jerusalem Post" said that Baku's invitation to Peres at this time "reaffirms the strategic relationship between the two countries," and that it is a political gesture demonstrating Azerbaijan's "commitment to its Western orientation and independence from Moscow and Tehran."
Ambassador Lenk said that while the Peres visit is not Iran's business, it is not in any way directed against Iran.
"Iran doesn't like anything Israel does. Their president has called for the destruction of my country. Where does such a thing happen? No other leader calls for the destruction of another member of the United Nations, " Lenk said.
In an interview carried on June 25 by Azerbaijan's Trend news agency, Peres is quoted as saying that Israel stands for the territorial integrity of Azerbaijan. This appears to be a clear reference to the Nagorno-Karabakh dispute, in which ethnic Armenians continue to occupy territory within Azerbaijani borders.
Not everything in the Azeri-Israeli connection is plain sailing, however. Four Azeribaijanis and two Lebanese are currently on trial in Azerbaijan, facing charges that they were plotting to blow up the Israeli Embassy in Baku.
And the pro-Iranian Azerbaijani Islamic Party staged a protest rally in the village of Nardaran outside Baku ahead of Peres's arrival.
Editor's Note: RFE/RL's Azerbaijani Service contributed to this report
Copyright (c) 2003 Open Society Institute. Reprinted with the permission of the Open Society Institute, 400 West 59th Street, New York, NY 10019 USA, wwwEurasiaNet.org. or www.soros.org.