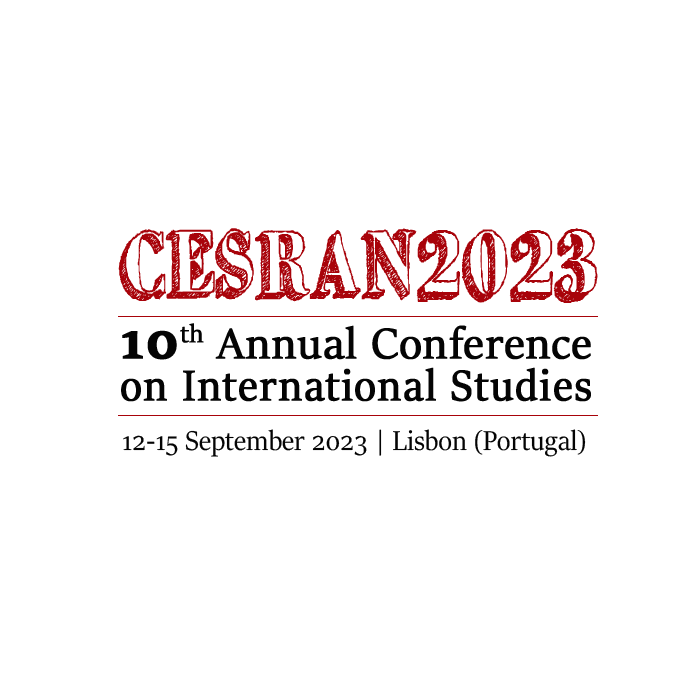 CESRAN International, Universidade Autónoma de Lisboa, and OBSERVARE invite panel and paper proposals for the 10th Annual Conference on International Studies on 12-15 September 2023 in Lisbon, Portugal. The Conference will be held in Lisbon between 12-13 September 2023. The third and fourth days (14-15 September 2023) will be online.
To present a paper at the conference:
Applicants must fill in the Application form
here
.
The conference is also open to non-paper presenters, and we would encourage participation from non-academic sectors such as civil society, the private sector, national authorities and the media.
Deadline for submissions: June 01, 2023 (Extended July 01, 2023)

---
The 10th Annual Conference on International Studies
CESRAN2023
Tuesday, September 12, 2023 – Friday,  September 15, 2023 (All Day)
---
Abstract Submission Deadline: June 01, 2023 (Extended July 01, 2023)
Registration Deadline for Presenters: July 15, 2023
This annual and interdisciplinary conference will again bring together a range of academics and practitioners to discuss new directions of research and discovery in International Studies. CESRAN2023 will afford the opportunity to network new relationships, hear the latest research, present and publish before a global audience and experience Portugal.
The conference organisers encourage panels and roundtables should be diverse, including gender, ethnicity, career stage, and geographical location.
---
Submissions
For CESRAN 2023, we will accept four submission types:
Submissions for the Conveners

Individual paper submissions

Panel submissions

Roundtable submissions
We accept scholarly research papers and policy analyses on any topic related to International Studies in its broadest definition.
Conveners – You may submit your paper for the following Conveners. Please bear in mind that your submission title should be coherent with the Conveners' Panel Title.
Dr Ana Belen Perianes – EU-Central Asia Relations
Professor Caroline Kennedy – Gendering War
Professor Ester McIntosh – Gender, Religion and Politics
Professor Luis Tome – "Atlantic-Pacific": Geopolitical and Security Ties between Europe and Asia-Pacific

Professor Ana Isabel Xavier – What About the Day After Vilnius? Eurasia's New Challenges and Opportunities

Dr Marco Marsili – Energy Diplomacy and Global Security
Professor Nicholas J. Wheeler – Trust, Distrust, and Responsibility in Nuclear Crises
Professor Ozgur Tufekci – Geopolitical Rivalry in Eurasia
Professor Rahman Dag – International System Change and Middle East Politics
Professor Sandra Fernandes – EU Defence Policy after Russia-Ukraine War
Professor Todor Kolarov – Contemporary Developments in Asset Confiscation
Dr Adrian Pogacian – China and Russia in Eastern Europe
Panel – It is for a group of experts working in a specific area to share papers or papers in progress. Panel submissions should include at least four papers, a discussant and a chair, or five papers and a chair.
Roundtable – It is for a group of experts to discuss a particular issue in depth without the constraints of having to speak to a paper. Roundtable submissions should include a minimum of four participants and a chair and up to a maximum of six participants and a chair.
---
Asymmetrical Threat and State Security
The New European Neighbourhood Policy
Area Studies
Regional Conflicts and Crisis Management
Conflict Resolution and Mediation
The Impact of Non-state Actors on Regional and International Systems
Ethnic and Sectarian Conflicts
Energy, Environment, and Climate Change
Financial Institutions and Global Financial Developments
Human Security and Migration
Responsibility to Protect, Humanitarian Intervention and Sovereignty
International Organizations in Global/Regional Issues
Global Armament/Disarmament and Stability of International System
Islamic Movements and Islamic Thought in the Middle East
Radicalism and Extremism
Cyber Security and Cyber Warfare
Armament, Nuclear Weapons, Missile Defence Systems, and the New Deterrence
Social Movements and International System
International Migration Studies, Irregular Immigration, and Refugee Problem
Contemporary Discussions in International Security Studies
Current Debates in International Relations Theories and Changing Geopolitical Circumstances
Economical-Political Competition in International System
Resolution Methods of Legal and Commercial Disputes in International System
The Quest for Strategic Equivalence in the International System
and other issues on International Studies…
---
The Review Process
Once the online submission process is closed, individual paper/panel/roundtable submissions are peer-reviewed by the conference programme committee.
Initial peer review is done by the Conveners for the submissions, which are made for the relevant Panel Title.
The Conveners can accept, decline or refer submissions during this process.
Where there are individual papers with scholarly merit but for which there is no good panel fit, the conference chairs will attempt to construct interdisciplinary panels.
---
Timeline
01 November 2022: Submissions open

01 June 2023 (Extended July 01, 2023): Deadline for all submissions – papers, roundtables and panels

15 June 2023: Accepted Submissions are announced, and notification emails are sent out

15 June 2023: Registration opens

15 June 2023: Fee waiver applications open – deadline 20 June 2023

01 July 2023: Early registration closes

15 July 2023: Registration closes

25 July 2023: Final programme published

12 September 2023: 10th conference begins
---
Costs and Fee Waivers
The deadline for registration is July 15, 2023. To register, you should contact us at conference [at] cesran.org. In order to be included in the Conference Program and the Abstract Book, the registration fee must be received by July 15, 2023. An invoice will be handed to you at the conference.
At least one author must be registered for each accepted paper to be included in the Conference Program. Registration is required for all participants attending the conference. The registration fee includes the abstract book and other conference materials.
---
Registration
Euro Bank Account for Participants

Registration fees
Early Registration
(before 01 July 2023)
Late Registration
(01 July – 15 July 2023)

Standard Fee

€ 80

€ 100

Co-author

€ 60

€ 80

Additional Paper

€ 40

€ 60

BANK ACCOUNT INFO:




Currency type: Euro




Recipient: Ozgur Tufekci




IBAN: TR65 0001 5001 5804 8014 4443 20




Swift code: TVBATR2A




Bank: Vakifbank




City: Trabzon




Country: Turkey

You may use Transferwise to reduce the transaction fee…
---
Sterling Bank Account for Participants

Registration fees
Early Registration
(before 01 July 2023)

Late Registration
(01 July – 15 July 2023)


Standard Fee

£ 70

£ 90

Co-author

£ 50

£ 70

Additional Paper

£ 35

£ 55

BANK ACCOUNT INFO:




Currency type: Sterling




Recipient: Ozgur Tufekci




IBAN: TR88 0001 5001 5804 8016 3183 34




Swift code: TVBATR2A




Bank: Vakifbank




City: Trabzon




Country: Turkey

You may use Transferwise to reduce the transaction fee…
---
---
Applicants must fill in the Application form
here
.
---
APPLICATIONS SHOULD INCLUDE:
The paper/session/panel title

A Short abstract including methodology, main assumptions and conclusions of the paper (500 words maximum)

Up to 6 keywords should be used.

Author/participant name(s) and institutional affiliations

A one-paragraph biographical statement of each participant (not a detailed CV)

Author/participant e-mail addresses (essential), telephone and fax numbers

Any audio-visual equipment requests (if applicable)
---
PANEL SUBMISSION
To organise a panel, you will need to:
Submit a 500-word proposal

Solicit contributors and evaluate submissions under your panel once your proposal is approved

Arrange the panel: find a chair, consider the need for special funding of participants and maintain communication with the conference team.

A panel session will be 90 minutes, and group three to five papers together around a common theme, using a discussant and allowing ample time for interaction.
---
MANUSCRIPT SUBMISSION GUIDE
Participants are required to submit completed original research papers to the conference.

Manuscripts should be submitted in electronic format to conference [at] cesran.org

Manuscripts submitted to CESRAN2023 should be original contributions and should not be under consideration for any other publication at the same time.

Manuscripts submitted for consideration of publication (see the section below) are subject to preliminary editorial review and blind review. The Editors and referees use three-step guidelines in assessing submissions:
a) Literary quality: writing style, usage of the language, organization of the text,
b) Use of references: referencing, sources, relationships of the footnotes to the text,
c) Scholarship quality: depth of the research, quality, contribution originality, and plausibility of the argument.
Upon the referees' decision, the papers will be published in an edited book in the journals of CESRAN International.
Manuscripts should be one space throughout and typed in English on single sides of A4 paper. Pages should be numbered consecutively.

Manuscripts should be arranged in the following order of presentation:
First sheet: title, subtitle (if any), author(s), name(s), affiliation, full postal address, telephone and fax numbers.
Subsequent sheets: the main body of text, list of references and footnotes, appendices, and tables.
Manuscripts, as a rule, should not exceed 10.000 words, not including footnotes.

Authors are responsible for ensuring that their papers conform to the CESRAN style.

Titles in the article should be 12 points, bold and in uppercase form.

Each manuscript should be summarized in an abstract, which should describe the main arguments and conclusions of the manuscript. And also, each manuscript should include up to five keywords.

Notes should be numbered consecutively throughout the article and indicated in the text by a raised numeral, referring to the list of notes, which should be placed at the end of the article. Notes should be kept to a minimum. References to books should give the author's surname preceded by the initial letters of his/her forename, the title of the book should be in italics, and the place, publisher and year of publication should follow in brackets. References to articles should give the author's forename, and surname, the title of the article in single quotation marks, the name of publication underlined, the number of volume in Arabic numerals, the year of publication in brackets and the page numbers. Subsequent references to a book or article may be made only by the author's name.

Tables and figures should be embedded in the text. A short descriptive title should appear above each table with a clear legend and any footnotes suitably identified below. All units must be included. Figures should be completely labelled, taking into account the necessary reduction.
---