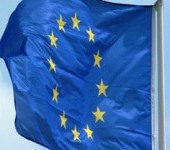 EU leaders have chosen Belgian Prime Minister Herman Van Rompuy to be the first president of the European Council, while UK trade commissioner Catherine Ashton will become the bloc's foreign policy chief.
Welcoming the decision on Thursday evening (19 November), Swedish leader Fredrik Reinfeldt said: "What we were seeking were people to create continuity" and "to be the voice and face of Europe throughout the world."
Mr Van Rompuy, from the centre-right political family, is a trained economist and has been running Belgium for less than a year. He writes Haiku (Japanese verse) and is known for his low-key style, which includes a line in self-deprecatory humour and caravan holidays.
He came to prominence after Germany and France a few weeks ago agreed between themselves to promote him. Several diplomats subsequently suggested that his short term in office stood to his advantage as he has had no time to make enemies among other EU leaders.

 
The presidency decision – nominating a person from a small country with no international profile – confirms the speculation of recent weeks that the majority of member states wanted to choose a person whose main role will be that of an internal fixer, rather than someone who can open doors in Washington and Moscow.
Mr Van Rompuy underlined his low-key approach by saying he intended to be "discreet" and that his personal opinions were "subordinate" to the council.
He talked up the importance of member states and their diversity and noted that he would "put forward the positions that the council has approved" at international meetings without stepping on the toes of the European Commission president.
Catherine Ashton, meanwhile, emerged relatively late in the race to be the EU's top diplomat. Her name appeared after UK foreign secretary David Milliband, the preferred candidate at the beginning, said he was not interested in the job.
With the EU president being a man, from a small country and from the centre-right, Ms Ashton balances the scales in terms of gender, coming from the left and being from a big country.
Balancing these criteria is a part of any major EU decision, with conservatives laying claim to the presidency post early on in the game and the left later saying the top diplomat should be one of their own.
Ms Ashton, trade commissioner since October last year, has no foreign policy experience and has never held a senior ministerial post.
She said it was a measure of "her slight surprise" that – unlike Mr Van Rompuy – she did not have a prepared speech but pledged to "represent [European] values across the world."
Ms Ashton, who still has to be approved by the European Parliament, highlighted her skills by pointing to her success in negotiating a free trade agreement with South Korea, the EU's largest ever bilateral trade deal.
19.11.2009