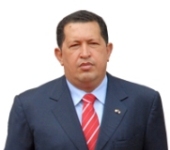 Colombia says it will not allow recent tensions with Venezuela to escalate into violence, after it accused Venezuelan troops of blowing up two footbridges that link the countries.
Gabriel Silva, Colombia's defence minister, said on Friday that Bogota will not permit the incident to lead to an armed conflict.
"We will not be provoked. The insults bounce off us," the Reuters news agency quoted Silva as saying.
He said he met with military commanders on Friday near the Venezuelan border and denied that Bogota was planning a troop build-up.
"What we cannot accept is aggression against the civilian population or against our territory. We are already prepared for that," he said.
Venezuelan 'aggression'
 

His comments came a day after Colombia accused Venezuelan soldiers of using dynamite to blow up two pedestrian bridges that cross into Colombia's Norte de Santander state.
Ramon Carrizalez, Venezuela's vice-president, said the bridges were removed on the Venezuelan side because they were being used as illegal crossings for drug trafficking.
But Colombia's foreign ministry said the destruction of the bridges was "an aggression against the civilian population and the frontier communities".
Other Colombian officials said they would file a complaint with the Organisation of American States and the UN Security Council.
Residents of the border area waded through the thigh-high Tachira River to get to work, school and to shop for food after the bridges were destroyed, Reuters reported.
"It's scary because the rocks are slippery. I'm afraid of falling," Mery Garcia, a pregnant Venezuelan woman trying to cross the water to get to her doctor's office on Colombia's side of the border, told a local television station.
'Prepare for war'
Al Jazeera's Monica Villamizar, reporting from the Colombian capital Bogota, said there was a real fear among local residents that the current tensions could escalate into a conflict with Venezuela.
Tensions have grown between the two countries after Bogota granted the US more access to its military bases – a move the US and Colombia say is to help in the Latin American country's fight against drugs and leftist fighters.
Venezuela's president recently told his armed forces to "prepare for war", saying the US-Colombia military pact could set the stage for a US invasion.
Chavez's comments sparked clashes on the Colombia-Venezuela border last week, where Colombians fought with Venezuelan border guards who responded by firing tear gas.