Alisher Khamidov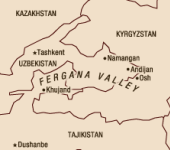 A recent clash on the Kyrgyz-Uzbek border is highlighting a simmering social problem found in and around the Fergana Valley's many isolated enclaves. Public frustration is mounting over the inability of officials in the region to grapple with border-related issues, experts say.

Authorities in Uzbekistan and Kyrgyzstan are investigating the causes of the late July incident, in which a group of Uzbek citizens used stones to attack a Kyrgyz border checkpoint near the Uzbek enclave of Sokh, an area entirely surrounded by the Kyrgyz province of Batken. Two Kyrgyz law enforcement officers were reportedly injured in the confrontation. According to the Kyrgyz Border Service, the attack occurred after Kyrgyz border guards detained two Sokh residents who allegedly crossed the state border illegally.
"Officers of the Kyrgyz State National Security Committee and the Interior Ministry, as well as representatives of the local authorities from both sides [of the border], arrived at the scene of the incident immediately. The incident was settled through talks. The two instigators of the conflict were handed over to Uzbek law-enforcement agencies," Cholponbek Turusbekov, deputy chairman of the Kyrgyz Border Service, told the Kazakhstan Today news agency on July 22.  


Residents who live in and around Sokh complain regularly about restrictions on their movement, especially since the violent episodes in Khanabad and Andijan, Uzbekistan, in late May.The increased restraints have hampered trade, preventing many farmers in the area from bringing their produce to market. The measures have also deepened the feeling of isolation of enclave residents from their countries.
In addition to Sokh, the Fergana Valley contains seven other enclaves. The Uzbek territories of Shakhimardan, Sokh, Qalacha, and Jangail are all located within Kyrgyzstan's Batken Province. Kyrgyzstan's Barak and Tajikistan's Sarvak both lie within Uzbekistan's Fergana province. Vorukh and Western Qalacha, two Tajik districts, are also surrounded by Batken province. 

During the early post-Soviet period, Fergana Valley borders were largely porous and unguarded. An insurgency waged by the Islamic Movement of Uzbekistan (IMU) during the summer of 1999 and 2000 prompted Central Asian authorities to tighten border controls, seeking to check the free movement of individuals across borders, as well as to step up the fight against drugs and arms trafficking. Such measures had negative economic and social ramifications on regional residents.

Sokhibjon, a taxi driver from Uzbek city of Fergana, described the complexity of traveling between two Uzbek cities. "If you want to get to Shakhimardan from Fergana, you have to cross at least four border checkpoints and several police stations. And you are likely to be harassed by border guards and customs inspectors. Fed up with such harassment, many people avoid traveling to Shakhimardan," he said.
In addition, stringent border measures have endangered the local tourism industry, the main source of income for Shakhimardan's five thousand residents, locals say. With its picturesque scenery and mountain lakes, the enclave has long been a major holiday destination in the region. Several Islamic sacred sites located on its territory also once attracted a sizable number of religious pilgrims.

"We lived off profits made during the busy summer months. Every day thousands of people flocked [to Shakhimardan]. Those days are long gone. The streets are empty and there is not much trade happening. We barely can make ends meet now," a resident of Shakhimardan told EurasiaNet on condition of anonymity.
In 2007 and 2008, residents of Shakhimardan staged several small protests in front of a local government building, trying to draw attention to their social and economic problems. Their claims, however, have been left largely unanswered by local officials.

Locals in Sokh complain of isolation of another type. Sokh's 35,000 residents are predominantly ethnic Tajiks. The majority of local government officials are ethnic Uzbeks. Authorities in Tashkent have long viewed the Tajik-populated enclave with suspicion. The IMU incursions reinforced these suspicions and prompted the authorities to tighten control over movement in and out of the enclave. Between 1999 and 2001, landmines planted by Uzbek authorities to prevent the infiltration of Islamic militants killed at least a dozen local residents. Though the government began to remove landmines in the early 2000s, stiff security measures continue to make travel outside the enclave difficult for residents.

When it comes to agriculture, enclave residents complain about a scarcity of arable land and pastures, a fact that sometimes has lead to clashes between neighboring villagers. Kyrgyz non-governmental organizations that specialize in conflict prevention in the Fergana Valley have reported more than a dozen border clashes involving enclave residents since the early 2000s.

Regional governments have sought to delimit the state borders to reduce tensions in and around enclaves. For example, the Kyrgyz-Uzbek commission on border delimitation and demarcation has completed the delimitation of approximately 993 km out of 1,375 km of their mutual border. But a lack of funding has greatly hindered border demarcation efforts. In 2008, for instance, the Kyrgyz legislature allocated less than 10 million som (roughly $230,000) for border delimitation efforts.

Complex terrain and conflicting Soviet-era maps — printed at a time when defining the borders was not a pressing issue — present the toughest obstacle to delimitation. As a temporary solution, Uzbek and Tajik authorities have informally sought land corridors through Kyrgyzstan that would connect the enclaves to their respective territories. But Kyrgyz officials oppose such corridors, saying they would hamper the movement of Kyrgyz citizens.
Some local residents and conflict prevention experts say that national governments should avoid hasty delimitation agreements and instead should give more authority to local governments. Maksumjon Rakhmatullayev, an analyst from the Uzbek town of Fergana, believes that "Local government officials are incapable of addressing [border-related] problems because they do not have enough power. They have to consult with their capitals for every issue and problem. And it takes time for the capitals to respond."
Editor's Note: Alisher Khamidov is a researcher based in South Kyrgyzstan.
Copyright (c) 2003 Open Society Institute. Reprinted with the permission of the Open Society Institute, 400 West 59th Street, New York, NY 10019 USA, wwwEurasiaNet.org. or www.soros.org.