Deirdre Tynan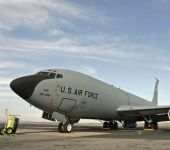 The American air hub outside Bishkek may have a new name — the Manas Transit Center — but its operational capabilities remain largely unchanged. The new lease agreement covering activities at the American facility does not differ substantially from the previous pact. The only major change is that Washington is now paying Bishkek a whole lot more in rent.
The Manas facility has been operating under its new name since July 14. The new agreement covers not just America's use of airport-side property but "any associated objects and types of real estate in the territory of the Kyrgyz Republic." Crucially, the agreement allows for all manner of goods and personnel to be ferried across Kyrgyzstan's airspace and roads. Sources familiar with the negotiation process tell EurasiaNet the agreement provides for "troops, weapons and everything else."
The agreement further defines "any associated facilities and types of real estate" as meaning "all land, buildings, installations and associated communications, located at the Manas international airport, near it or in other places in the territory of the Kyrgyz Republic, and made available for use by the US Department of Defense."
A review of both the old and new agreements, copies of which were obtained by EurasiaNet, indicate that on many points the pacts do not appear to differ much. For example, in the original agreement, aircraft are "not subject to inspection", while under the new agreement, "aircraft belonging to US military forces, or used by them, are not to be inspected."

 
Rules covering personnel in both the new and old pacts are essentially the same. US military personnel will continue to enjoy quasi-diplomatic status, including tax-exempt standing. Contractors will also enjoy tax-free status.
As outlined in the first agreement, negotiated in 2001; "contractor companies and contractors personnel are exempt from any taxes or any similar charges imposed on the territory of the Kyrgyz Republic." Similarly, the new agreement says; "The US Department of Defense, its personnel, contractor companies and contractor personnel are exempt from the payment of any taxes or similar charges imposed on the territory of the Kyrgyz Republic."
Under the terms of the new agreement the US government is paying $60 million to be delivered quarterly to the Kyrgyz government. Previously, Washington paid $17.4 million per year in rent.
Kyrgyz Foreign Minister Kadyrbek Sarbayev said on June 23 that the total American package would include some $117 million earmarked for an upgrade of airport facilities, economic development, anti-narcotics initiatives and anti-terrorist programs. Only $36 million for building new parking and storage areas near the airport is mentioned in the agreement.
The US Embassy in Bishkek declined to give EurasiaNet a copy of the new agreement, despite Under Secretary of State William Burns' pledge that the agreement would be "very transparent."
"We are committed to transparency in our new agreement. Under the terms of our new agreement, it is the Kyrgyz Government which will have primary responsibility for security. There will also be joint security operations within the Transit Center. We are going to do everything we can to ensure maximum transparency about the goals of the Transit Center," Burns said during a visit to Kyrgyzstan on July 12.
American and Kyrgyz officials are continuing to work out details of the new security arrangement. Maj. Rickardo Bodden, the public affairs officer for the facility, told EurasiaNet on August 12; "A Working Group has been established."
The name change best reflects the activities taking place at the facility, Maj. Bodden maintained. "The change to the 'Transit Center at Manas' is a better identification of what we are doing and have done in the past," he said. "We are a Transit Center that provides three critical missions: Onward movement — transporting coalition troops in and out of theater; Airlift — transporting logistics to the warfighters; and Air refueling — our refueling aircraft provide fuel for coalition aircraft supporting operation throughout Afghanistan."
"The Transit Center is busier now than a few months ago," Bodden added."On average, monthly we move approximately 30,000 coalition troops in and out of Afghanistan to support Operation Enduring Freedom. On average the Transit Center pumps approximately 300,000 gallons of jet fuel daily to coalition aircraft for operations in Afghanistan."
Kyrgyzstan's roads appear to be next in line for utilization by the Pentagon, as military planners try to clear supply bottlenecks that are posing logistical challenges for the Afghan war effort.
According to a tender opportunity closing on August 17, "The US Army Contracting Command [. . .] hereby requests submission of proposals [. . .] for the movement of cargo via ground transportation from Transit Center at Manas, Kyrgyzstan to multiple final destinations within Afghanistan in support of the Northern Distribution Network."
The Department of Defense is willing to pay up $20 million for transport services and envisages such services as being needed until August 9, 2014.
The minimum amount of cargo to be moved involves "the line haul of 12 Class VII, Non Tactical Vehicles and fourteen 40-foot stuffed containers, containing Freights of All Kinds (FAK)."
"Follow-on movements are estimated at 5 containers per month to be transported from the Transit Center at Manas, Kyrgyzstan, to final destinations in Afghanistan. This is an estimated monthly quantity and could increase or decrease based on mission needs," the tender adds.
The initial movement "does not contain hazardous or sensitive items" but "there may be times where sensitive and/or hazardous cargo will be handled under this contract," the tender states.
Goods are envisioned as being moved from the Transit Center at Manas across the Kyrgyz-Tajik border. "Movement continues through Tajikistan, crosses the Sher Khan Tajikistan-Afghanistan border with final destination to a designated location in Afghanistan. Routes may be changed during the life of this contract; however border crossing from Kyrgyzstan into Tajikistan and Tajikistan into Afghanistan will remain firm," the tender explains.
Deliveries will be made to Camps Sharona, Salerno, Bagram, Kabul, Jalalabad, Forward Operating Base (FOB) Shank and Ghazni, Kandahar, Camp Bastion, Leatherneck, Tombstone, FOB Wolverine, Tarin Kowt, FOB Maiwand, Spin Boldak, FOB Dwyer and FOB Frontenac.
Editor's Note: Deirdre Tynan is a freelance journalist who specializes in Central Asian affairs.
Copyright (c) 2003 Open Society Institute. Reprinted with the permission of the Open Society Institute, 400 West 59th Street, New York, NY 10019 USA, wwwEurasiaNet.org. or www.soros.org.