Robert Raffaele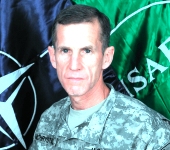 As NATO troops engage Taliban insurgents throughout Afghanistan, the top commander's recommendation for additional troops has earned a key endorsement.

NATO defense ministers meeting in Slovakia, expressed "broad support" for their general's plan.
"What we need is a much broader strategy which stabilizes the whole Afghan society," said NATO Secretary General Anders Fogh Rasmussen. 

The endorsement goes to the core of a strategic debate generated by General Stanley McChrystal's grim private assessment of the war effort. He also attended the Slovakia meeting.
The alliance commander is believed to have proposed that President Obama send tens of thousand more troops to the fight in Afghanistan.

Rasmussen said that defense ministers have a "general shared view" that Afghanistan must be empowered to defend itself. 


"The only way to ensure that Afghanistan does not become, once again, a safe haven for terrorists is if it is made strong enough to resist the insurgency as well," he said. "The Taliban hosted al-Qaida in the past, [and] extreme elements of the Taliban could well do so in the future" 

Rasmussen hinted the ministers want to "progressively" hand over lead security responsibilities to the Afghan army and the police when they are ready for the transition.
U.S. Defense Secretary Robert Gates, who also also addressed reporters, declined to discuss the Obama administration's deliberations. But he vowed the U.S. would not abandon its central mission in Afghanistan, which President Obama has said is the destruction of the al-Qaida terror network. 

"We're looking at a full range of activities and our strategy in Afghanistan, as has been said publicly in Washington and as I've said, we're not pulling out," he said. "I think any reduction is unlikely. The question is: do we have the strategy right?" 

Gates also said he is heartened by the NATO alliance's commitment to Afghanistan.