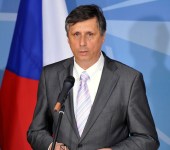 U.S. Vice President Joe Biden has secured the Czech Republic's support for U.S. missile defense plans after winning the backing of fellow NATO allies Poland and Romania.
Biden met Friday with Czech Prime Minister Jan Fischer, who said his country is ready to participate in the new plan. 

Biden said Washington will send a high-level defense team to Prague next month for discussions.
Prague had previously expressed disappointment in U.S. President Barack Obama's decision to scrap plans to build a missile defense system in the Czech Republic and Poland.

Biden has assured the new system is a better way to protect both Europe and the United States against emerging missile threats from countries like Iran.
The revised plan focuses on short and medium-range interceptors, while the proposal conceived under former U.S. President George Bush was designed to shoot down long-range missiles.
Vice President Biden won Polish Prime Minister Donald Tusk's endorsement for the revamped missile plan while visiting Poland Wednesday. He received the support of Romanian President Traian Basescu on Thursday during a stop in Bucharest.

The three-nation trip has aimed to assure Eastern Europe that Washington is not turning its back on the region. 
23 October 2009