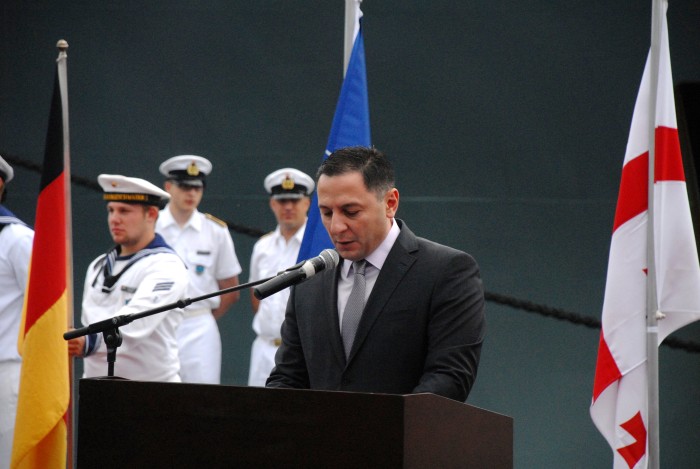 Georgian Prime Minister Irakli Garibashvili has promoted First Deputy Interior Minister Vakhtang Gomelauri to succeed his former boss, Aleksandr Chikaidze, as minister. Chikaidze had submitted his resignation on January 23, citing as his reason for doing so allegations that he had protected from prosecution police special-purpose-unit officers who were involved in the shooting in Tbilisi in May 2006 of two young men whom they suspected (wrongly, as it turned out) of planning an armed robbery. Chikaidze rejected those allegations as untrue, adding, however, that he felt he had "a moral obligation" to step down.
Three former Interior Ministry officials, including former Deputy Minister Irakli Pirtskhalava, were arrested on February 2 in connection with the deaths of the two men. Pirtskhalava has dismissed the charge against him as "a fairy tale."
Yury Vazagashvili, the father of one of the two victims, who had campaigned for years to bring the police officers responsible to justice, was killed on January 20 by an explosion at his son's grave in Georgia's Kaspi district.
Chikaidze had served as interior minister for a little over one year, havingsucceeded Gharibashvili in that post in November 2013 at the age of 28. Regarded as ineffective and a figurehead, he had raised eyebrows by making a series of inappropriate statements: Garibashvili publicly distanced himself in April from Chikaidze's comment to a Georgian newspaper that the former ruling United National Movement could seek to "destabilize the country" with the aim of overthrowing the regime.
Garibashvili nevertheless praised Chikaidze's decision to resign as that of "a dignified person" for whom serving his country was more important than holding a specific office. So, too, did two lawmakers from the majority Georgian Dream parliament faction.
At 39, Gomelauri is a decade older than his predecessor. He joined the Interior Ministry in 2002, and he stressed in his acceptance speech that he has spent over half his career there. Analyst Ghia Nodia noted that while Chikaidze was Garibashvili's man, Gomelauri is a protégé of former Prime Minister Bidzina Ivanishvili, the billionaire businessman who established Georgian Dream in 2011 and led it to victory in the October 2012 parliamentary elections. Gomelauri served for a while as the head of Ivanishvili's personal bodyguard; he was named first deputy interior minister in December 2014. GD members have described him as "decent," "principled," and "competent."
Gomelauri's first order of business, and the one on which his competence in his new job will be judged, will be to investigate the killing of Yury Vazagashvili, whose funeral on January 25 Garibashvili attended along with several other cabinet ministers. The day before he was killed, Vazagashvili gave an interview in which he reportedly named several Interior Ministry and Prosecutor's Office staffers who he claimed were responsible either for his son's death or for covering up for the perpetrators. He identified as one of the police who opened fire on Zurab Vazagashvili's car city-police-department head Giorgi Dalakishvili, who has since been dismissed; he also named Criminal Department deputy head Otar Mirzoyev, who has reportedly resigned, and senior officials Tsaadze and Samarghanishvili.
Valery Khaburzania, who served as Georgia's national security minister under then-President Eduard Shevardnadze from 2001-03, told the website Kavpolit that he does not discount Vazagashvili's allegations. He identified as the organizer of Zurab Vazagashvili's death former Interior Minister Vano Merabishvili.
Khaburzania added that some of the men behind Zurab Vazagashvili's death were members of the special purpose security unit, and thus his former subordinates; in that context he cited Pirtskhalava's name. Khaburzania said Gomelauri must conduct a purge of the Interior Ministry to weed out the old guard who served under Merabishvili. According to Deputy Interior MinisterArchil Talakvadze, an investigation has already been launched to determine whether any ministry personnel are under suspicion.
It is not yet clear how Gomelauri's appointment will affect long-standing plans to reform the Interior Ministry, which figured among Georgian Dream's pledges in the run-up to the October 2012 parliamentary elections. Those plans included separating from the Interior Ministry the security and intelligence bodies that had been subsumed into it in 2004 to create a mega-ministry that former human rights ombudsman Sozar Subari claimed in 2008was above and beyond the law.
On his appointment as interior minister in the new Georgian Dream government, Garibashvili said that a Bureau for Reforms and Development would be established within the ministry that would draft a "long-term development strategy." As a first step, according to Garibashvili, two departments created within the ministry in 2005 would be abolished and their functions transferred to other bodies. They were the Special Operative Department, whose duties encompassing crimes related to weapons and cargo smuggling; organized crime; drug and human trafficking; money laundering; and extortion were to be given to the Criminal Police; and the Constitutional Protection Department. The latter's duties with regard to dealing with official corruption were to be transferred to "a new powerful anticorruption agency," while its focus on terrorism and threats to the constitutional order would devolve onto the counterintelligence agency.
Judging from the structure of the ministry as outlined on its website, these changes, including the creation of the Reform and Development Agency and Anticorruption Agency, have indeed been made. The State Security Agency, however, is still part of the Interior Ministry.
Parliament speaker Davit Usupashvili, whose Republican Party is part of the Georgian Dream coalition but does not always see eye to eye with its other members, raised the need for further reforms of the ministry in late November during a parliamentary debate on draft legal amendments that preserve the Interior Ministry's unrestricted direct access to so-called black boxes within telecom operators' networks server infrastructure that enable the simultaneous monitoring of up to 20,000 mobile phones. Garibashvili hadargued several weeks earlier that the ministry should retain that capacity; he subsequently accused those who opposed the amendments of seeking to "weaken" the country.
Usupashvili for his part had favored an alternative bill drafted by Republican legislator Vakhtang Khmaladze, which would have stripped the Interior Ministry of its access to telecom servers. That bill was voted down on November 27, one day before the original package of amendments was passed in the second and third readings. The parliament then overruledGeorgian President Giorgi Margvelashvili's veto of the new law.
If Nodia and other analysts were correct in identifying Gomelauri as "Ivanishvili's man," and for that reason construing his appointment as weakening Garibashvili's position, it is conceivable that Garibashvili may dropthe argument he made in November that a stronger Interior Ministry is a prerequisite for a strong and successful state and give Gomelauri the green light to proceed with the formal separation from the Interior Ministry of the departments responsible for intelligence and national security.
By the same token, it is possible that Usupashvili, who publicly questioned Garibashvili's insistence on the need for a strong Interior Ministry, may seek to take advantage of the changed political landscape to push for what he termed "the kind of reforms that will, on the one hand, provide for continuation of the European path and logical steps on the road of European association, and on the other hand, will reduce level of [public] distrust [in the Interior Ministry]."
---
Copyright (c) 2014. RFE/RL, Inc. Reprinted with the permission of Radio Free Europe/Radio Liberty, 1201 Connecticut Ave NW, Ste 400, Washington DC 20036.