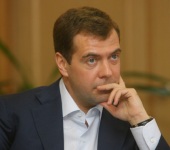 Presidents Dmitry Medvedev and Gurbanguly Berdymukhammedov failed Sunday to set a time frame for the return of Turkmen gas flows to Russia, halted since April after a pipeline blast that left Ashgabat short of revenues.
On a more positive note, the two leaders presided over the signing of a production-sharing deal between Turkmenistan and Itera, a Russian midsize private gas explorer, for Block 21 on the Caspian Sea.
But Sunday's meeting had been expected to generate a breakthrough on the Russian-Turkmen gas trade. Relations were soured after Turkmenistan accused Russia of suspending imports because Gazprom faced reduced demand in Europe and did not want to pay for expensive Turkmen supplies.
14 September 2009