J. Peter Pham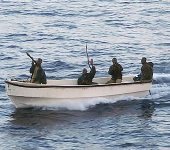 This week, the Russian Navy found the Arctic Sea, a timber freighter that mysteriously disappeared at the end of July after passing through the English Channel. The Maltese-registered, Russian-crewed ship ended up 300 miles off the coast of Cape Verde — a spectacular act of piracy and one of the first in European waters since the 1700s.
The incident has shaken sailors and governments. This week, for instance, the Swedish Shipowners' Association went so far as to remind its members that they faced a real pirate threat, advising them to adopt the same safety procedures in home waters as they do elsewhere.
But they don't know the half of it. Naval commanders and ship owners alike are bracing themselves for an imminent surge in attacks — and the world's navies are in no position to stop it. Much of the anticipated uptick is expected to come when the monsoon season ends in the Horn of Africa. 
Excerpt reproduced with permission from Foreign Policy, www.foreignpolicy.com. Copyright 2009 Washingtonpost.Newsweek Interactive LLC. Read the full article at  [http://www.foreignpolicy.com/articles/2009/08/21/you_aint_seen_pirates_yet]