Paul Rimple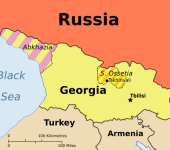 Abkhazia celebrated the first anniversary of Russia's 2008 recognition of its independence with its borders guarded by Russian soldiers and its seaside resorts packed with Russian tourists. Abkhaz officials claim that it is a relationship between equals. But an August 29 announcement that the Russian Federal Security Service's Coast Guard will monitor Abkhazia's Black Sea coastline has again demonstrated the contradictions inherent in that assertion.
Georgia's recent seizure of two ships bringing fuel to Abkhazia and delivering scrap metal to Turkey from the breakaway region prompted the decision.
"At sea they behave very aggressively," said Lieutenant-General Yevgeny Inchin, the FSB Coast Guard's deputy director," in reference to the Georgian coast guard. "Entry of ships under flags of third countries into Abkhazia's territorial waters serves as grounds for the Georgian side to indulge in various actions against them," RIA Novosti reported Inchin as saying.

 
Abkhaz officials argue that the seizures were part of Georgia's alleged attempts at disrupting Abkhazia's tourism trade, a vital lifeline for the cash-strapped territory. Gasoline prices in the southern district of Gali alone rose from 20 rubles (about 63 cents) to 30 rubles (about 95 cents) per liter.
Russian boats will act "effectively and productively" to prevent such seizures in the future, Inchin continued.
Georgia, in turn, considers the decision an act of "pure piracy because these waters are Georgia's territorial waters . . ." Giorgi Bokuchava, the head of the Georgian National Transportation Administration, told Rustavi-2 television on August 29.
But for the Abkhaz, such measures are part and parcel of its partnership with Russia — not piracy, and not paternalism.
"Russia is interested in stability," commented Abkhazia's de facto Deputy Foreign Minister Maxim Gunjia in a recent interview about Russia's $800 million military and economic assistance plan for Abkhazia. "They want to be our partner."
The military assistance part of that cooperation most likely will attract the greatest outside attention. Moscow announced on August 25 that it plans to station some 1,700 troops in the sub-tropical region; a sizeable dip from earlier estimates of 3,600 soldiers.
The troops will be part of a 15-billion-ruble (about $470 million) plan, announced by Russian Prime Minister Vladimir Putin during an August 13 trip to Sukhumi, to reinforce the Abkhaz border with Georgia and to build a Russian military base at the Black Sea coastal town of Ochamchira in southern Abkhazia. Putin also promised an additional 10.9 billion rubles ($330 million) in economic and social assistance.
But while that aid may look like a one-way street, Abkhaz military officials insist that their defense cooperation agreement with Moscow is based on a partnership of equals.
The agreement, noted Gunjia, has a defined shelf life (five years), and will not transform Ochamchira into "another Sebastopol" — the Ukrainian port city that currently serves as the headquarters for Russia's Black Sea fleet. Abkhaz border guards — not Russian — oversee entrance formalities for visitors arriving from Georgia; a fact often misreported in Georgian media.
"We're preparing a mutual plan of defense," said Abkhaz Chief of Staff General Anatoly Zaitsev, who also serves as first deputy defense minister for the region. "But we will work separately."
Unlike the US-trained and relatively modernly equipped Georgian forces, the Abkhaz army relies on Soviet-era weapons and rusty, weather-beaten materiel.
"The US gave Georgia everything. Russia gave us nothing," said General Zaitsev, brandishing an American assault rifle he claims was taken when the Abkhaz moved into the Upper Kodori Gorge after Georgian forces fled the area last August. "Our army is trained by Abkhaz, Soviet-era officers — not Russians," he added.
Georgian officials scoff that the presence of Russian troops in Abkhazia — a deployment that they say violates Moscow's 2008 cease-fire agreement with Tbilisi — belies the truth of that statement.
But many ordinary Abkhaz rejoin that Russia's August 26, 2008 recognition of their independence came as the result of a mistake by the Georgian government — its August 2008 attack on the South Ossetian capital, Tskhinvali. Little credit is given to notions of Russian altruism or innate sympathy for the Abkhaz independence cause.
"Oh, thank you, Mr. Saakashvili for your war in South Ossetia!" exclaimed one Abkhaz diner at a restaurant in Sukhumi when asked how she felt after one year of recognition.
Meanwhile, local politicians walk a fine line between nationalism and fully embracing their northern neighbor, which accounts for two-thirds of Abkhazia's foreign trade, according to Gunjia. Turkey, despite officially honoring Georgia's blockade of Abkhazia, accounts for a third.
Current information about Russian budgetary support was not immediately available. "Injections from abroad" accounted for just under a third of Abkhazia's official 1.43 billion-ruble (about $44 million) budget for 2007, according to the Moscow-based magazine "Russia in Global Affairs. "
That role means that opposition to Abkhazia's ties with Russia runs scarce. "All the parties in Abkhazia are pro-Russian," said Leon Adzhindzhal, spokesperson for the opposition Party of Economic Development, which calls for a diversification of investors in Abkhazia as a way to strengthen Abkhaz independence.
Acting like a Kremlin "marionette" — an expression frequently used by Georgian media to describe both the de facto Abkhaz and South Ossetian governments — would be political suicide, however.
Political jockeying centers on shades and degrees of Abkhaz patriotism — with relations with Russia seen as simply part of that mix, commented Adzhindzhal.
Said local freelance journalist, Inal Hasi: "Russia recognized our independence. They didn't create it."
Editor's Note: Paul Rimple is a freelance journalist based in Tbilisi.
Copyright (c) 2003 Open Society Institute. Reprinted with the permission of the Open Society Institute, 400 West 59th Street, New York, NY 10019 USA, wwwEurasiaNet.org. or www.soros.org.