Deirdre Tynan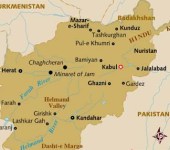 The escalating insurgency in northern Afghanistan is threatening American and NATO efforts to develop the Northern Distribution Network (NDN). As the NDN gains greater strategic importance, observers warn it will increasingly become the focus of attacks. And such potential strikes could have consequences for Afghanistan's northern neighbors in Central Asia.
The NDN experienced its first major incident on September 4, when American jets, acting on a German request, dropped almost half a ton of explosives on two hijacked fuel tankers in the Char Dara District of Kunduz Province. Preliminary reports by human rights groups suggest at least 60 civilians died in the attack. A full investigation into the incident is promised.
The tankers, which originated in Tajikistan, had traveled across the Nizhny Pyanzh bridge, built by the US Army Corps of Engineers in 2007 at a cost of $37 million. They were driven through the Sher Khan Afghan border post, and made it past the city of Kunduz before being hijacked by Taliban militants on the south side of town and then driven close to the village of Omar Kheil, some 20 kilometers south of the provincial capital.
The same road is set to become even busier with the US military seeking commercial contractors to shift "freights of all kinds" from Kyrgyzstan through Tajikistan and into Afghanistan at Sher Khan. According to a solicitation issued on August 5, "routes may be changed during the life of this contract; however border crossing from Kyrgyzstan into Tajikistan and Tajikistan into Afghanistan will remain firm." Commercial haulers, with written permission, may employ armed security escorts once inside Afghanistan, but they may not do so in either Tajikistan or Kyrgyzstan.

Sources tell EurasiaNet that once inside Afghanistan, theft is a regular occurrence along the supply route, and security is an increasing concern. "Stuff is stolen all the time, but [the thefts] are not necessarily related to the Taliban, although this [Kunduz incident] clearly was," said a source familiar with NDN operations.
"As they were mooting the idea of the NDN, I remember loud voices saying 'all you're going to do is ruin the peace in the north,'" the source added.
Kunduz Province, bordering Tajikistan, was once considered a relatively calm area. At present, the province is patrolled by German troops under the auspices of NATO. In recent months, attacks on both local police and foreign forces have intensified.
Leonid Bondarets, a Bishkek-based military analyst, said the NDN is causing the Taliban to pay more attention to the northern part of Afghanistan. Central Asian states facilitating the supply line must realize that they are facing a growing national security risk, he cautioned. "It is absolutely possible that those Central Asian states taking part in NDN will become targets for Afghan militants. The Taliban is fighting coalition forces and they will do all they can to destroy them. It is a war," said Bondarets.
In terms of internal security, several Central Asian states have experienced trouble this summer. The Uzbek government has tightened border security following militant-related incidents in eastern Uzbekistan in May. Experts in Tajikistan, meanwhile, believe a central purpose of a prolonged anti-narcotics operation in the Tavildara Region is to neutralize militant groups that have reappeared in the area.
Paul Quinn-Judge, the Central Asia project director for the International Crisis Group, said the possibility of attacks on NDN-participating Central Asian states were "a long shot" for now. But a Taliban strike in the region could not be deemed "beyond the realm of possibility," he added.
Quinn-Judge characterized the Kunduz incident as "a scary reality check" for US and NATO forces in Afghanistan. "It challenges the American expectation that large amounts of goods can be transported to Afghanistan by road," he said. "The people likely to be waiting for deliveries are the Taliban, not allied forces."
The coming months may provide a strong security challenge for Central Asian governments, Quinn-Judge suggested. "We've seen already that the war in Afghanistan is another one of those situations where things can escalate very abruptly and very nastily and at high speed," he said.
"I'm particularly worried what that might mean for the countries of Central Asia," he continued. "The major issue that has been not clarified in any way is how strong the Central Asian governments are. It's a totally unknown factor."
Editor's Note: Deirdre Tynan is a freelance journalist who specializes in Central Asian affairs.
Copyright (c) 2003 Open Society Institute. Reprinted with the permission of the Open Society Institute, 400 West 59th Street, New York, NY 10019 USA, wwwEurasiaNet.org. or www.soros.org.