Sean Maroney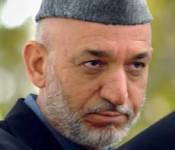 Afghanistan's Independent Election Commission says it has canceled the presidential runoff, originally scheduled for this Saturday. The announcement came a day after President Hamid Karzai's challenger, former foreign minister Abdullah Abdullah, withdrew from the race. 
After enduring months of political uncertainty, Taliban violence, and the realization of massive fraud in the first round of voting, Afghans now know who their president will be.

"We declare that Mr. Hamid Karzai, [who] got the majority of votes in the first round and [who] is the only candidate for the second round of elections of Afghanistan in 2009, we declare [is] the elected president of Afghanistan." said Azizullah Lodin, election commission president. Lodin also said officials decided to cancel the runoff in order to save Afghans the expense and security risk of another election.

Sunday, President Karzai's challenger, former foreign minister Abdullah Abdullah said he could not accept a runoff overseen by the same people who were in charge of the August 20th poll.
In that round of voting, international officials uncovered massive fraud, mainly in President Karzai's favor. As a result, Mr. Karzai's victory fell below 50 percent, requiring a runoff.


After the IEC decision, the United States and U.N. Secretary-General Ban Ki-moon issued statements congratulating President Karzai on his victory.

Ban is in Kabul for separate talks with Mr. Karzai and Abdullah.

Last week, five foreign U.N. staff members were killed in a suicide attack on a Kabul guesthouse. The Taliban claimed responsibility and said it was the first of many attacks to disrupt the runoff.
Ban said the international community remains committed to Afghanistan.

"We will not be deterred, we cannot be deterred, and we must not be deterred, and the work of the United Nations will continue," he said.

This will be Mr. Karzai's second term as president. Each term lasts five years, and according to the country's constitution, President Karzai is not eligible to run again.  
02 November 2009