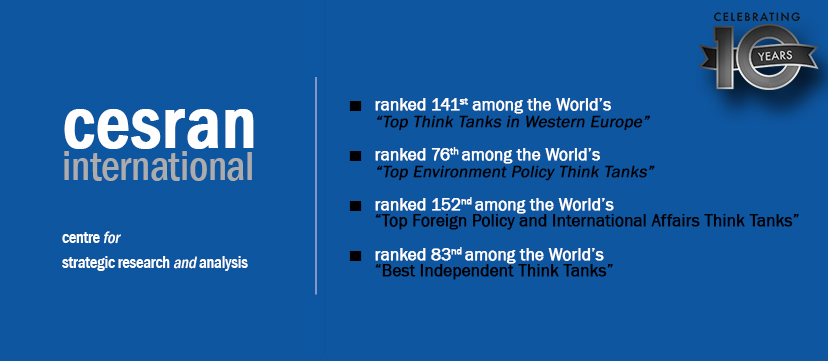 ---
CESRAN International is pleased to announce that it has been named again amongst the world's best think tanks. The 2018 Global Go To Think Tank Index ranked CESRAN International
141st among the World's "Top Think Tanks in Western Europe"
76th among the World's "Top Environment Policy Think Tanks"
152nd among the World's "Top Foreign Policy and International Affairs Think Tanks"
83rd among the World's "Best Independent Think Tanks"
The annual Global Go To Think Tank Index is conducted by The Think Tanks and Civil Societies Program (TTCSP) of the Lauder Institute at the University of Pennsylvania. The TTCSP maintains the largest, most comprehensive database of 8,162 think tanks. In 2018, a panel of over 1,790 peer institutions and 3750 journalists, policymakers, public and private donors, and functional and regional area specialists completed the nomination and ranking surveys.
CESRAN International President, Alp Ozerdem said:
It is fantastic that CESRAN International has been named once again amongst the top think tanks in the world. This is clearly the result of dedication by our wonderful core team and support of our wider Cesran family. I would like to thank them all for their continuing hard work in achieving such a sterling outcome.
CESRAN International Founder and Director-General, Ozgur Tufekci said:
Congratulations once more to everyone at CESRAN International on this fantastic achievement. This is by any measure a terrific achievement by a dedicated staff. I am delighted that CESRAN International has retained and increased its ranking amongst the Top Think Tanks in the World.
CESRAN International Deputy Director-General, Husrev Tabak said:
It is not the first time that CESRAN International is ranked amongst the top think tanks by the TTCSP and this year's rankings are by no means a coincidence. We have worked hard and in great commitment to ensure excellence and diversity in academia and research. I want to take this opportunity to congratulate the CESRAN International team and our global community of contributors on this achievement.
CESRAN International Executive Committee Member, Rahman Dag said:
CESRAN International was a small but promising initiative twelve years ago when it was established but now has become one of the leading institutions in the world. I am sure that as long as the team continues with their commitment, CESRAN International will firmly rise towards the top. Thanks for everyone believes in us.
For the full report please click at the link below:
https://repository.upenn.edu/think_tanks/16/
---