Joanna Lillis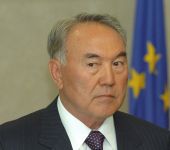 Although Kazakhstan has been battered by the global financial downturn, the Central Asian nation's citizens are still upbeat. Recent polling data shows that economic troubles have not dented the popularity of President Nursultan Nazarbayev's administration, and that a healthy majority believes the country is moving in the right direction.
The results of a Kazakhstan National Opinion Poll — conducted May 9-23 and presented recently in Almaty — provide a welcome boost to the administration as it implements its $18 billion anti-crisis program. Baltic Surveys Ltd and The Gallup Organization conducted the opinion survey of 1,516 people in all regions of Kazakhstan for the International Republican Institute (IRI). Funding was provided by the National Endowment for Democracy.
The research shows that, while 78 percent agree that Kazakhstan is in the midst of a "serious financial crisis," some three-quarters of people (74 percent) approve of the way Nazarbayev and his government are handling it, and nearly a quarter (22 percent) consider authorities' handling of the credit crunch to be "very good." According to the poll, which has a margin of error of 2.5 percent, a total of 76 percent believe Kazakhstan is heading largely in the right direction.
The overall optimism can be linked to confidence in Nazarbayev and his government, both of whom enjoy high approval ratings: 84 percent gave a favorable assessment of the president, and 78 percent approved of the government. However, despite the broadly positive mood, fewer than half of respondents (46 percent) expect an improvement in Kazakhstan's economic situation within the next year. Their lack of confidence is borne out by a government forecast that growth for 2009 will be just 1 percent, against last year's 3.1 percent.

 
There is no doubt that the financial crisis is on the minds of ordinary people, of whom 68 percent said their city or village is feeling its effects. People are also suffering on an individual level, with 38 percent of those polled saying their financial situation has deteriorated in the last year — though 39 percent said it has not changed and 20 percent said their financial positions had actually improved.
A comparison of these figures with the results of a similar IRI poll in August 2008 indicates that the financial crisis is hitting families harder now. Last August, 31 percent said their financial position had deteriorated over the past year, while 24 percent said it had improved. This may explain why Nazarbayev's approval rating, while still impressive, has fallen by 8 percentage points since last August, when it stood at 92 percent.
Prices, inflation and the job market topped the list of public concerns. Asked to name the single effect of the financial crisis that they feel most, nearly half (47 percent) picked price increases for basic products, while a quarter opted for the decrease in available jobs. Unemployment officially stood at 6.6 percent in June, but the real figure is believed to be much higher.
Asked to name the issue that most concerns them, 32 percent chose inflation, 25 percent named unemployment or the threat of it, and 20 percent pointed to low living standards and incomes. These concerns dwarfed traditional worries about corruption, housing, crime, and education, each named by fewer than 5 percent of respondents.
The research indicates that Kazakh citizens have yet to feel the effect of falling inflation. Inflation is officially forecast at 9 percent this year, half a percentage point below last year's rate and sharply down on 2007's figure of 18.7 percent.
Inflation may be falling, but prices continue to rise and salaries remain relatively low. The poll indicates nearly one-third of households (30 percent) have a monthly income of below 25,000 tenge ($170), and less than a quarter (23 percent) has a monthly income of over 60,000 tenge ($400). According to latest figures from Kazakhstan's Statistics Agency, average salaries stand at around 65,000 tenge ($430), and the subsistence level is estimated at 13,300 tenge ($90).
Asked to evaluate their household incomes, 11 percent of those polled said they did not have enough money for basic needs, while a total of two-thirds (64 percent) said they could afford only basic products, or "what is necessary." Only 3 percent said they could "afford almost whatever we want."
The poll contains a clue about the source of high levels of support for the president and government in the face of financial constraints. A vast majority of people in Kazakhstan (89 percent) named Kazakhstan's television stations as a key source of information about politics. With the broadcast market almost entirely controlled by forces loyal to Nazarbayev, television is a powerful opinion-forming mechanism. The administration has used it to the full to publicize its message that the financial crisis is a global phenomenon that has arrived in Kazakhstan from abroad, and to persuade viewers that the economy is in safe hands. The results of the poll indicate that the people of Kazakhstan are convinced by this argument.
Editor's Note: Joanna Lillis is a freelance writer who specializes in Central Asia.
Copyright (c) 2003 Open Society Institute. Reprinted with the permission of the Open Society Institute, 400 West 59th Street, New York, NY 10019 USA, wwwEurasiaNet.org. or www.soros.org.