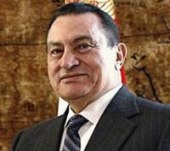 Egyptian president Hosni Mubarak has told his Israeli counterpart construction work on land taken from Palestinians in 1967 must stop if there is to be peace.
Speaking at a press conference following their meeting on Sunday, Mubarak said he had made it clear to Shimon Peres that settlement in occupied lands, including East Jerusalem, was a major obstacle to any final peace agreement.
"I say peace is still possible. But there is a need for the political will in Israel … [it] realises the dangers of losing this peace opportunity. It needs to take courageous decisions," he said.
Egypt and other Arabs have blamed the US administration for not doing enough to press Israel to stop building on occupied territory.
Political responses
Peres played down Mubarak's comments.
 

"Unfortunately, it's a marginal issue, it is some building of houses that became a central issue for the wrong reasons. My answer is even this issue can be settled by negotiations and agreement.
"The minute we shall start to negotiate there won't be new settlements, there won't be confiscation of land," Peres said.
But Mahmoud Abbas, the Palestinian president, has said he would not renew negotiations with Israel unless it agreed to freeze settlement expansion. He has urged Washington to do more.
Washington has said Israel's approval of new construction was "very dangerous" because it would fuel Palestinian anger and threatened peace. But Barack Obama, the US president, has backed Israel's position that stopping should not be a condition for talks.
Undermining peace
The visit comes a day after Mubarak was quoted by the Kuwait News Agency as accusing Israel of undermining the peace process.
"You are placing new obstacles in the path to peace through your call to recognise the Jewish character of the state, to negotiate on interim borders for the Palestinian state and ruling out al-Quds from the final status negotiations," Mubarak reportedly said.
He also urged Israel to lift the siege of Gaza and to answer calls for peace "within a specified time frame and [with] clear guarantees".

Egypt, which has been working to mediate reconciliation between Palestinian factions Hamas and Fatah, has not lost hope, Mubarak was quoted as saying.