Ahmed El Amraoui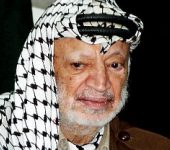 Yasser Arafat, the Palestinian president and PLO leader, died on November 11, 2004 but his supporters and opponents continue to reflect – and often debate – on his life and legacy. For some he symbolised dreams of Palestinian statehood, for others he was simply an "implacable foe".
Despite the differences over how to evaluate Arafat's political stature, most – including those who distance themselves from his ideas – agree that his ultimate impact on the Palestinian struggle and the Middle East region as a whole is significant.
His supporters saw in him the warrior, the statesman and the peacemaker, who succeeded in putting the Palestinian issue on the world's agenda and transforming the Palestinian struggle into a legitimate fight for independence.
To Kofi Annan, the former UN secretary-general, Arafat was a man who "expressed and symbolised in his person the national aspirations of the Palestinian people".
Jacques Chirac, the former French president, said of Arafat that he was: "a man of courage and conviction who for 40 years incarnated the Palestinians' fight for recognition of their national rights".
 

Vladimir Putin, the Russian prime minister, described the late Arafat as "a great political leader of international significance."
A 'terrorist'?
But Arafat's opponents viewed him as a manipulative terrorist and authoritarian leader, whose real objective was to remain in power. He was persona non grata in the US and Europe for many years and was considered a man more committed to violence than diplomacy.
James Phillips, a Research Fellow in Middle Eastern affairs at The Heritage Foundation, a conservative US think tank, wrote in a 2004 commentary titled "Yasser Arafat's Disastrous Legacy," that "under Arafat's leadership the Palestinian Authority became corrupt, unaccountable, and dedicated to protecting Arafat's interests, rather than those of the Palestinian people."
Phillips went on to say: "His refusal to end terrorism has poisoned the peace negotiations, led Israel to re-occupy Palestinian areas and close its borders to Palestinian workers, and crippled the Palestinian economy. Palestinian parents have been horrified to find their children brainwashed into becoming suicide bombers and cannon fodder for Arafat's revolutionary pipe dreams."
Nevertheless, friends and enemies alike admit that Arafat succeeded in associating himself with the suffering of the Palestinians and that he was the embodiment of their fight for an independent state.
Controversial figure
In his life, and now after his death, Arafat was and will probably remain the most controversial and towering Arab politician in modern history.
The world's reaction to his death in Paris in 2004 (with tears and gunshots; praise and condemnation) reflected long-standing disagreements about Arafat as a warrior and as a key player in the intractable Middle East situation.
Arafat's lifetime achievements and responsibilities show that he was a political activist, a warrior, and a Nobel Peace Prize winner in 1994 "for his efforts to create peace in the Middle East, renouncing acts of terror and becoming a sincere participant in a true peace process".
He was the first president of the Palestinian National Authority, leader of the ruling Fatah movement, the chief of the PLO and commander of its armed forces.
Domestically, Arafat managed to veto the emergence of an alternative Palestinian leadership and to link his fate with that of his nation.
Hamas, the Islamist resistance movement which was often at odds with Arafat and is currently locked in a political stalemate with Fatah, hailed the late president as an icon of unity and struggle.
"Arafat's death meant losing a symbolic leader committed to the Palestinian cause whether we agreed with him or not." Fawzi Barhoum, a Hamas spokesman, said.
Hamas emerged stronger after Arafat's death and seized power in Gaza in 2007, a step which most Palestinians believe Arafat would have never allowed.
"If this division had happened during Arafat's era he would have felt as though he had died 10 times every hour," Saeb Erakat, a lifelong Arafat aide and chief Palestinian negotiator, told AFP.
Internationally, he was a stateless person treated worldwide as a head of state, a great political leader of international significance and the charismatic founder of Palestinian nationalism.
Arafat remained the leader of the planet's longest-running revolutionary movement, and died before seeing a successful end to the Palestinian struggle.
Five years later, his death means the loss of a man who represented the quest for the recognition of the Palestinian peoples' legitimate rights; his opponents believe the world is better without him.
14 November 2009