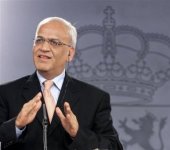 Palestinian officials are preparing to ask the United Nations to endorse their quest for an independent state after years of failed peace talks, Palestinian authorities have said.
Saeb Erekat, the chief Palestinian negotiator, said officials plan to ask the UN Security Council to back a set of guidelines for a Palestinian state.
But he said there is no timeframe for the initiative, which would include the West Bank, the Gaza Strip and east Jerusalem – areas captured by Israel in the 1967 six-day war.
"Now is our defining moment. We went into this peace process in order to achieve a two-state solution," the Associated Press news agency quoted him as saying.
"The endgame is to tell the Israelis that now the international community has recognised the two-state solution on the '67 borders."
Palestinian frustration
Erekat said Palestinians had decided to turn to the UN due to frustration at the lack of progress in stalled peace talks.

 
Barack Obama, the US president, has been trying to restart talks between Mahmoud Abbas, the Palestinian president, and Binyamin Netanyahu, the Israeli prime minister, since the US leader took office last January.
But the efforts have been hindered by the issue of illegal Israeli settlement construction in the occupied West Bank. Abbas has demanded a freeze in the construction before the resumption of negotiations.
Mohammed Dahlan, a senior official in Abbas's Fatah faction, said on Sunday that the UN initiative would be "a real test of the intentions of the international community", the Reuters news agency reported.
"We are now leading a diplomatic battle," he said.
"If the American administration does not agree, that will be another setback."
If the Security Council does not approve the measure, Dahlan said other options include a unilateral declaration of statehood and "popular, comprehensive resistance against settlement and the occupation".
Israeli warning
But Israeli officials warned that any unilateral moves would harm peace efforts.
"Any unilateral statement that will be made by the Palestinians will not move the Israeli side forward in order to achieve peace," Silvan Shalom, Israel's vice-prime minister, said at Israel's weekly cabinet meeting on Sunday.
"I think the Palestinians should know that unilateral actions will not lead to the
results they hope for."

But Mahdi Abdul Hadi, the chairman of the Palestinian Academic Society in Jerusalem, said the move is not unilateral.
"It cannot be unilateral. It is a collective effort, it is backed by the Palestinian people. It is simply because of the deadlock in the negotiations," he told Al Jazeera.
"It is time for the international community to recognise the … Palestinian need to end the occupation. If we gain a United Nations resolution or a Security Council resolution we can challenge the Israelis on the acts of things on the ground."
15 November 2009