Donald K. Bandler, Jakub Kulhanek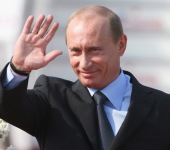 The reaction from the American defense establishment to news that Russian submarines have been operating off the U.S. coast has been fairly nonchalant, bordering on smug. The submarine operation is widely seen as a rather feeble show of strength by the Russian military after a series of embarrassments over botched missile tests and undistinguished conduct during last year's war with Georgia.
Russia's weakness — military, political, and economic — is fast becoming conventional wisdom in Washington. In a recent interview with the Wall Street Journal before his trip to Georgia and Ukraine, U.S. Vice President Joseph Biden even suggested that a weakened Russia might work to the advantage of the United States. His words, of course, were primarily meant to reassure the skittish leaders in Tblisi and Kiev, who fear that a thaw in U.S.-Russia relations might lead Washington to abandon them. Whether he was speaking for President Barack Obama or not, Biden also sent an unequivocal signal to the Kremlin that it should not take any "reset" for granted and that the White House will not be intimidated by Russian aggression.
Excerpt reproduced with permission from Foreign Policy, www.foreignpolicy.com. Copyright 2009 Washingtonpost.Newsweek Interactive LLC. Read the full article at  [http://www.foreignpolicy.com/articles/2009/08/05/fear_of_a_weak_russia]