Marianna Grigoryan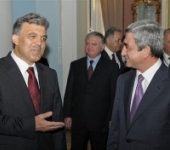 After almost a year of discussions and declarations about improving Armenian-Turkish relations, some Armenian analysts say that the two countries' "football diplomacy" initiative appears to have stalled. They add that Yerevan's relationship with Ankara appears to be entering a get-tough phase.
President Serzh Sargsyan's July 28 declaration that he would travel to Istanbul for an October 14 World Cup qualifying match between Turkey and Armenia only "if agreements are observed and visible steps [toward reopening the two countries' border] are taken" is driving the analysts' conclusions.
Given the welcome reception that Sargsyan's comments received in Armenia, the president seems more intent on placating vocal critics at home, who argue that the détente policy toward Ankara compromises Armenian interests, than he does on forcing Ankara to reopen its border.
Members of Armenia's influential Diaspora community have been among the most outspoken presidential critics. At a July 30 meeting with young Diaspora Armenians, Sargsyan said that Yerevan had made every effort to reestablish diplomatic ties with Turkey and have the border reopened, without insisting on conditions for that rapprochement. The Turks, Sargsyan claimed, did not follow suit.
In May, Ankara expressed its intent to link the reopening of its border with Armenia with a comprehensive solution to the Nagorno-Karabakh conflict. Turkey closed its Armenian border in 1993 in support for ally Azerbaijan in its war with Armenia over the breakaway territory. [].
"We understand very well that Turkey is a big and powerful state. We know perfectly well Turkey's role both in our region and in the world, but, on the other hand, the Turks must accept that we are Armenians," Sargsyan told the Diaspora group. "We are an independent state. We live now in the 21st century and one cannot speak the language of preconditions now; any precondition, any tough position, sparks a counter-reaction."

While such statements are likely to win political points with the Diaspora, one opposition advisor suggested that Armenia's president had lost his bearings. "A person would have to be flippant to declare in April that he is going to Turkey to watch the football match, and then refuse to go in July," commented Vladimir Karapetian, foreign relations coordinator for the Armenian National Congress and a former spokesperson for former Armenian Foreign Minister Vardan Oskanian. "Sargsyan seems to be lost in a trap, not knowing what to do."
Meanwhile, other Armenian observers wondered what took the president so long to start playing hardball with Ankara. "[S]omething is changing in President Serzh Sargsyan in the right direction, and he has started to call a spade a spade," said Kiro Manoian, a senior official in the Armenian Revolutionary Federation-Dashnaktsutiun Party who oversees political issues and matters related to Ottoman Turkey's 1915 massacre of ethnic Armenians. Manoian, along with other opposition members, contended that Turkey's interest in negotiations with Armenia stems from a desire to cater to the international community. He argued that Armenia should have ceased talks immediately after Turkey's statement about Nagorno-Karabakh.
Heritage Party MP Stepan Safarian agreed, but said that Sargsyan's declaration was "better late than never." Independent political analyst Yerevand Bozoian echoed that assessment. "The notorious football diplomacy is coming to an end," he commented.
But if Sargsyan's attitude toward Turkey has changed, that does not mean that his policies will, these commentators predict. The framework for a Karabakh resolution is reportedly slotted for a makeover by October, an event that could delay any move to transform Armenia's policy toward Turkey. "I don't think any real changes will take place before October," Bozoian said. "Most likely, the Armenian president will not go to Turkey to watch the football match. Turkey will take some steps, again, seeking political dividends."
Ruben Safrastian, a Turkish studies expert and director of the National Academy of Sciences's Institute of Oriental Studies, says that Turkey will continue to strive to improve relations with Armenia, but cautions that predicting Yerevan's response is not yet possible. "The two countries are fighting diplomatically," Safrastan said. "I don't think there will be fundamental changes in the near future."
Editor's Note: Marianna Grigoryan is a freelance reporter based in Yerevan.
Copyright (c) 2003 Open Society Institute. Reprinted with the permission of the Open Society Institute, 400 West 59th Street, New York, NY 10019 USA, wwwEurasiaNet.org. or www.soros.org.