Eurasia Insight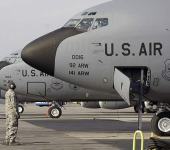 Uzbekistan is fuming about Russian plans to establish a second military base in Kyrgyzstan. Tashkent has issued a cantankerous public statement warning that a new base would become a source of instability in Central Asia. Meanwhile, Kyrgyz observers are accusing Uzbek leaders of being jealous.
The Uzbek Foreign Ministry issued a blistering statement on August 3 outlining Tashkent's opposition to the base plans. Uzbek officials contended that it was strategically unwise to create a base for the Russia-dominated Collective Security Treaty Organization's Rapid Reaction Force in southern Kyrgyzstan.
"The implementation of such projects on complex and unpredictable territory, where the borders of three Central Asian republics directly converge, may give impetus to the strengthening of militarization processes and initiate all kinds of nationalistic confrontations," the Uzbek statement asserted. "Also, it could lead to the appearance of radical extremist forces that could lead to serious destabilization this vast region."

Uzbekistan has opposed the opening of a second Russian-led military base in Kyrgyzstan from the moment rumors about its creation first began to circulate. But prior to the August 3 statement, Uzbekistan expressed its discontent through unnamed sources in the Russian press.
Kyrgyzstan and Russia signed a memorandum of understanding on August 1 to increase Russia's military presence in southern Kyrgyzstan, although the exact size or location of the deployment has not been decided. The deal is expected to be formalized by November 1.
Observers in Kyrgyzstan say there is little Uzbekistan can do now to halt Russia's military expansion in the vicinity of the restive Ferghana Valley.
Kyrgyz leaders expect to reap considerable benefits from the presence of the CSTO's Rapid Reaction Force in southern Kyrgyzstan. In particular, the presence of a base should help strengthen Kyrgyz sovereignty at a time when the country is proceeding with plans to build the controversial Kambarata hydro-electric power complex on the Naryn River.
The downriver countries in Central Asia — Kazakhstan, Turkmenistan and Uzbekistan — have vigorously opposed efforts by Kyrgyzstan and Tajikistan to develop their respective hydropower capacities.
"They [Uzbek leaders] are just jealous that Kyrgyzstan is getting closer to Russia, and that Russia gave us $2 billion for the construction of the Kambarata complex because as we know, Uzbekistan is against it," the coordinator of the ruling Ak Zhol party in Osh, Avazbek Shamshiev, told EurasiaNet on August 4.
Many Kyrgyz experts belief Tashkent is resisting the base plans out of political self-interest, not broader strategic considerations.
"For a long time, but especially lately, Uzbekistan has been very unhappy with Kyrgyzstan," said Azamat Temirkulov, a political scientist at the American University of Central Asia. "There are a number of problems related to border issues and the construction of the Kambarata plant. Uzbekistan blamed Kyrgyz border guards for letting terrorists infiltrate Andijan. Their [Uzbek] secret services were even coming in to our territory like it's their own."
"Now, with the appearance of a Russian base [in the south], I think it will be much harder for Uzbekistan to influence Bishkek," Temirkulov continued. "The base will be a guarantee of security in the Ferghana Valley and in Kyrgyzstan as a whole. I think that's why it irritates Uzbekistan."
Copyright (c) 2003 Open Society Institute. Reprinted with the permission of the Open Society Institute, 400 West 59th Street, New York, NY 10019 USA, wwwEurasiaNet.org. or www.soros.org.