Prof. Scott Lucas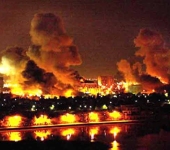 One of the immediate headline issues in yesterday's bombings in Iran, which killed at least 42 people including six senior Revolutionary Guard commanders, was US involvement. For years, the Iranian Government has asserted American support of the Sunni-Baluch group Jundullah, who were the likely attackers. The Islamic Revolution Guard Corps made the allegation within hours of the bombings, and the claim was repeated by Speaker of Parliament Ali Larijani. Interestingly, President Ahmadinejad and his Cabinet later distanced themselves from the US-first thesis, shifting to Pakistan, probably to maintain the engagement process with Washington.
Before the latest news from the Iranian Cabinet, EA's Mr Smith and Chris Emery went over the evidence of American links to Jundullah:

SMITH: We would normally dismiss the Iranian claims of foreign interference as the usual anti-West yarn from Tehran, but the claims against [Jundullah leader Abdolmalek] Rigi warrant extra attention. He is an extremely shadowy figure who appears to be well-protected, to the extent that his own brother has been caught and sentenced to death by the Iranian authorities but he himself is still at large. Also, he appeared several times on Voice of America Persian, identified as leader of the "Popular Resistance Movement of Iran", which is of course something VOA made up – it's not quite the Persian translation of Jundullah.
Exactly how the VOA got hold of him for a live interview, via satellite phone, is quite unexplained, as is the prominence and deference accorded to him. This interview caused a serious backlash in the Iranian blogosphere and discredited VOA Persian heavily.
EMERY: I think that the claims are much harder to dismiss when [investigative journalist] Seymour Hersh and [former CIA operative] Robert Baer have stated that Jundullah receives US support. I think it was very much a tit-for-tat policy after alleged Iranian support for Iraqi Shia groups in attacks on US troops. It has been reported that Obama ended these operations.
Iranians will still wonder why Jundullah is not on the State Department's list of foreign terrorist organisations.
Obama cannot privately say to the Iranians that he stopped covert support, as it obviously an admittance of past US policy, but he can now offer cooperation via Pakistan and Afghanistan. In fact, it will be interested to see how Iran approaches a now very distracted Pakistan; thus far, cooperation has been patchy. [EDITOR'S NOTE: In light of the subsequent Iranian Cabinet pressure on Pakistan, I find this a telling remark.]
SMITH: I am not really sure that that Obama Administration has ever supported Jundullah — it looks to me more like a smelly leftover from the Bush administration's penchant for "Iran destabilisation" via the infamous $75 million allocated for civil society and incitement of ethnic groups. As always, however, the Americans are masters at starting a mess and leaving it there to boil.
And they appear to have created a real monster this time, as this is a well-fed, relatively efficient group that appears to be running the show in Sistan-Baluchestan and being able to strike at will. It is more an embarassment that anything else for the current US Government, as I doubt they now have the capacity to rein them in.
The VOA link I highlighted was really preposterous, as it harks back to the heydays of Bush's desire to come up with anything that was anti-Islamic Republic of Iran and appeared to operate inside the country.
EMERY: As well as the $75 million announced in 2006, which I'm not sure would have ended up in Jundullah's hands, Hersh alleges a seperate request made to Congress in late 2007. Apparently that was for up to $200 million.
SMITH: Perhaps the $75-200 million would not end up directly in the hands of Jundullah, but all these ethnic militant groups have fronts that serve as cultural associations. So in one way or another these groups are probably recipients of US and perhaps British money. This issue should be clarified once and for all by the Obama administration, and I hope a lid is put on this. It is simply an embarassment for anyone involved, including the Saudis (who incidentally are merrily allowing channels such as Al-Arabiya to air exclusives with Abdolmalek Rigi).