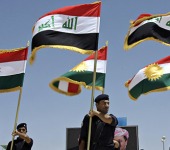 Iraq's Arab-led central government and Kurdish leaders in northern Iraq are talking, but they are still far from agreement on issues of land and oil that threaten the country's stability. Whether they can reach a compromise and bridge those differences while U.S. troops are still there to provide a buffer is doubtful.
Iraqi Prime Minister Nouri al-Maliki traveled to northern Iraqi's Kurdish region last weekend to meet with the President of the Kurdistan Regional Government, Massoud Barzani. Other than the benefit of restoring communications that had been virtually cut-off for the past year, regional analysts and journalists disagree over the significance of those meetings.
Some see the fact that a meeting has taken place as a promising sign.  "The very fact that a meeting took place signifies that all parties are seeking common ground," said Nadia Bilbassy, senior correspondent with the Middle East Broadcasting Center.
Kurdish journalist and former university professor Omar Sheikhmous also called the meetings promising. "It has more or less established a certain framework for future negotiations," he said.
Other observers are far more skeptical. "I don't think anything tangible came out of these meetings," said VOA correspondent Margaret Besheer. "Before, we had Shi'a-Sunni conflict and violence. Nobody wants to see it deteriorate into ethnic violence between Arabs and Kurds." Besheer now reports from the United Nations in New York. Prior to that, she covered Iraq from the Kurdish capital of Erbil and from Badgdad.
Background: The Arab/Kurdish Divide

Iraqi Arabs are divided between the majority Shi'a Muslims and the minority Sunni Muslims whose historical rivalry erupted into violence after the U.S.-led invasion of Iraq in 2003. That conflict has eased in the past year or so, since the beginning of the so-called "surge" of U.S. forces, which preceded a reduction in forces in preparation for a U.S. withdrawal from Iraq next year.
But while the surge served to reduce the effectiveness of a militant insurgency in Iraq, there has been growth in tensions between Iraqi Arabs and Iraqi Kurds. "There are worries among Iraqi Arabs that this might be the beginning of separation," explains Bilbassy.  In fact, journalists on all sides have stressed the potent symbolism of the Iraqi Prime Minister's going to Kurdistan to meet with Kurdish leaders rather than their traveling to Baghdad to meet with him.
"Kurdish leaders are not talking about separation; they are talking about federation or con-federation. They want more power given the Kurdish region," said Bilbassy.
There is a certain irony in this development because, since 1991 when the Kurdish region began to enjoy political autonomy from the rest of Iraq, it was considered the most stable area of Iraq.
Complicating the discussions and the focus of the debate are the issues of land and money. Over the past few years, disputes have emerged over the status of the northern city of Kirkuk, which is claimed by both Iraqi Arabs and Kurds. More to the point, the province of Kirkuk is the source of one-fifth of Iraq's oil exports, which makes the question of a census extremely touchy.
In June, the Kurdish parliament took matters into its own hands. It adopted a draft for a regional constitution that unilaterally laid claim to Kirkuk and to the governance of Nineveh and Diyala, which are also disputed territories. "The status of those areas is supposed to be the subject of talks with the central government under U.N. auspices," VOA correspondent Besheer said.
Meanwhile, the Kurdistan region has been open to oil prospectors and companies, even without the concurrence of the central government in Baghdad, according to Besheer. "They've said in effect, you guys can bicker all you want. We're going to get on with business."
Looking Forward 
Regional analysts say a compromise on these issues would be in the interest of all parties. And they agree that arriving at that compromise will be nearly impossible before U.S. troops leave the country. The consequences of failing to do so are unknown.
"U.S. officials are concerned that ethnic tensions between Iraqi Arabs and Iraqi Kurds could threaten security," said Besheer. But she said no one expects a return to the levels of violence seen between Sunni and Shi'a Arabs in 2006 and 2007.
By Judith Latham
Washington
07 August 2009