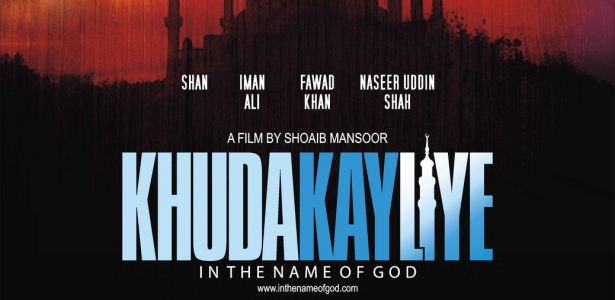 The Pakistani Urdu Language Drama Film "Khuda Kay Liye (In the Name of God)", literal translation "For God's Sake", is the story of misinterpretation of Islam and its backlash on the lives of people. The basic theme of this emotional 170 minutes long film revolves around the line that how much symbols of Islam are given preference over its essence. The movie encompasses the world's politics and the use/misuse of religious card on the global and regional level to serve one's own organized and latent interest.
---
BY AMIR HAMZA BANGASH | June 2012
Besides accentuating the socio-cultural problems existing in the society, this film also reveals the symbolic power of influential magician clerics sitting in the mosques by promoting the extreme wishful version of Islam and complete observance of silence from the government's camp to counter back despite knowing the gravity of prevailing situation. In a country, where no hygienic and unhygienic campaign can stay successful, unless approved and backed by the clerics, which raises from the Polio Vaccination to the existing terrorism in the name of Islam. This film proves that most of the times things in Islamic Republic of Pakistan, will start with the name of Islam, but will end somewhere beyond it.
It has successfully been placed as the Best Film in Roberto Rossellini Award and Fukuoka Audience Award. It is written, produced and directed by well-known Pakistani name 'Shoaib Mansoor'. The music of the film is catered by the Javed Bashir, Shuja Haider, Ahmed Jahanzeb, Khawar Jawad and Lagan Band, which colors the hot issue in sugar coated way. The script, plot and footage makes the film catchy and worth watching. Indeed it's the blend of Oriental narratives and Western Paradigm.
The film kicks off with two brothers Mansoor (Shan) and Sarmad (Fawad Afzal Khan), who are emerging young singers in Lahore. Sarmad gets in touch with one of the radical religious clerics and gets galvanize with his wishful interpretation of Islam. He ceases all the musical activities, grows his beard and even starts dictating his mother to observe veil.
---
To Read the rest of the article Please Click Here for Free Download.
*Published in POLITICAL REFLECTION MAGAZINE (PR) | VOL. 3 | NO. 3
© Copyright 2012 by CESRAN
or