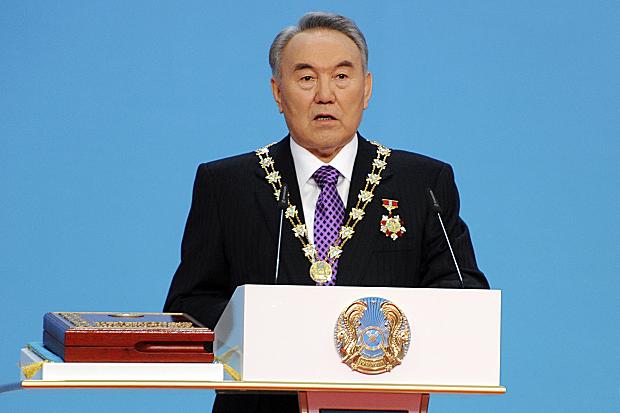 Voters in Kazakhstan are voting in a ballot that is expected to result in the reelection of President Nursultan Nazarbaev.
With authorities clamping down on opposition and keeping tight control over the media in the energy-producing Central Asian nation, the 74-year-old Nazarbaev is expected to win a fifth term easily.
His two rivals are not well known and are seen as pro-government figures who have joined the race to present the illusion of electoral competition.
Turgun Syzdykov, 68, is a former provincial official who represents the Communist Party.
The other candidate, 63-year-old Abelgazy Kusainov, is running as an independent.
Kusainov has held several ministerial posts and currently heads Kazakhstan's federation of trade unions.
Nazarbaev has ruled with limited opposition since before Kazakhstan gained independence in the Soviet breakup of 1991.
The former steelworker has promoted market reforms and, with the help of the sprawling steppe nation's oil and gas deposits and more than $200 billion in foreign direct investment, turned Kazakhstan into the second-largest economy in the former Soviet Union.
Critics say he has maintained power by suppressing dissent, curbing free media, and "illegally" changing the constitution.
Many of his opponents and critics have had to leave the country, and some have been killed or died in controversial circumstances.
A former member of the Soviet Union's ruling Politburo, Nazarbaev has said he wants to build a strong and prosperous state before launching democratic reform.
Kazakhstan's next presidential election had been scheduled for 2016, but the vote was moved up to April 26 after a national assembly chaired by Nazarbaev decided it should be held early to "ensure the continuity of the current policy."
The country is experiencing an economic slowdown as a result of last year's plunge in world oil prices and the international sanctions against top trading partner Russia over its interference in Ukraine.
In an article published ahead of the vote, Nazarbaev said the vote would give the elected president a clear mandate to lead the country through potentially troubled times.
The election is widely believed to have been moved up to quash any speculation about a successor and eliminate the risk that economic troubles could become severe enough to hurt his chances of recording a convincing victory.
Nazarbaev is officially titled "Leader of the Nation."
His ruling Nur Otan party controls nearly all facets of everyday life.
Soviet leader Mikhail Gorbachev appointed Nazarbaev as the Kazakh Communist Party's first secretary in 1989, and on April 24, 1990, his title was changed to president of Kazakhstan.
Nazarbaev was reelected in December 1991, weeks before the Soviet Union ceased to exist. In 1995, his term was prolonged until 2000 through a referendum.
He then won an early presidential election in 1999, a poll in 2005, and another early election in 2011 — in which he officially received nearly 96 percent of the vote — after engineering a legal amendment that exempted him from a limit of two consecutive presidential terms.
None of the elections has been judged free and fair by international vote monitors.
Ahead of the vote, the Organization for Security and Cooperation in Europe (OSCE), whose election and rights arm ODIHR is monitoring the poll, expressed concerns about Nazarbaev's "institutional advantage."
In an interim report, the OSCE noted that Nazarbaev billboards and posters were "visible throughout the country," unlike the two candidates running against him.
The report said that "closures and sanction of independent media" and the threat of criminal prosecution for defamation have stifled the media environment.
It said that Nazabaev was "actively touring the country" as president despite an announcement he would not campaign for reelection, and that the government had "not addressed" previous OSCE recommendations regarding electoral legislation.
---
Copyright (c) 2014. RFE/RL, Inc. Reprinted with the permission of Radio Free Europe/Radio Liberty, 1201 Connecticut Ave NW, Ste 400, Washington DC 20036.