Prof. Scott Lucas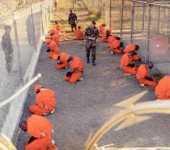 This article from Nick Baumann at Mother Jones is filled with political-insider information, but I think it is a significant marker of how the closure of the Guantanamo Bay detention facility has moved from an Obama pledge in January 2009 to a site for internal Administration struggle in November.
I learned several weeks ago that the Administration's top lawyer, Gregory Craig, was going to leave or be pushed out the door, in part because his political position was fixed to the promise to shut Gitmo. I was always sceptical, given the politics of the War on Terror, that the deadline of January 2010 was going to be met, so it was no surprise that Craig would have to walk the plank.
 

The broader issue is that we are now in a mish-mash of measures. There will be trials in the US for a few detainees (such as 9-11 planner Khalid Sheikh Mohammad) whom the Administration is sure will be convicted without the use of lost or discredited (i.e., obtained "via duress") evidence. There will be military commissions for about 75 detainees whose convictions cannot be assured. And the rest of the prisoners will remain in the limbo of a Guantanamo that is open well into 2010.
Liberals have not done enough public wrestling with Massimo Calabresi and Michael Weisskopf's Time article on the ouster of White House counsel Gregory Craig. Perhaps that's because they don't want to deal with the article's troubling implications. As Kevin explains, Craig was "the White House lawyer tasked with dismantling Bush-era interrogation and detention policies. At first, Obama was on board with Craig's plans.  Then, reality set in."
By "reality," Kevin presumably means "political reality." Time says that as soon as Obama's positions on Bush era torture — releasing the torture photos, for example — became politically difficult, the president jettisoned them. He did this despite the fact that he had been "prepared to accept — and had even okayed" those same positions "just weeks earlier":
First to go was the release of the pictures of detainee abuse. Days later, Obama sided against Craig again, ending the suspension of Bush's extrajudicial military commissions. The following week, Obama pre-empted an ongoing debate among his national-security team and embraced one of the most controversial of Bush's positions: the holding of detainees without charges or trial, something he had promised during the campaign to reject.
But perhaps the most damning part of the Time piece is this sentence, near the beginning, that summarizes exactly what has happened in Obama's White House:
[Obama] quietly shifted responsibility for the legal framework for counterterrorism from Craig to political advisers overseen by Emanuel, who was more inclined to strike a balance between left and right.
Take a minute to think about how the left would respond to this if Obama was a Republican president.
Obama delegated the responsibility for determining what to do about detainees to his political advisers. If George W. Bush had charged his political advisers, including Karl Rove, with crafting such policy, the entire blogosphere would have melted down from outrage overload.
Obama's actions here are deeply at odds with the public image he cultivated during his campaign — idealist, civil libertarian, constitutional law professor, someone who rose above politics. You can claim that the president is a "pragmatist," and always has been, but Obama draped himself in idealism and principle during the campaign. The left always complained that Bush let politics drive his policy decisions. But in this instance, couldn't Obama be accused of the same thing?