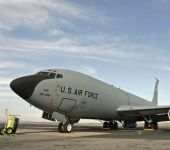 US diplomats are steadfastly denying that the American military seeks to return to the Uzbek air base at Karshi-Khanabad.
The head of the US Central Command, Gen. David Petraeus, was in Tashkent on August 18. During that visit Petraeus reportedly signed a military cooperation agreement under which the United States and Uzbekistan would expand strategic contacts and engage in joint trainings.
Some local media reports indicated that Petraeus inquired about the possibility of a US return to Karshi-Khanabad. Uzbek authorities terminated the American lease for Khanabad base during the summer of 2005 amid acrimony arising out of the Andijan massacre in May of the same year.
US diplomats, quoted by regional news outlets on August 24, said that the rumors about the American military wanting to return to Khanabad "do not correspond with reality."

Meanwhile, Britain has engaged Turkmenistan about the possibility of opening a new supply route to Afghanistan. A high-level Ministry of Defense delegation headed by the Assistant Chief of Defense Staff with responsibility for logistic operations, Maj. Gen. Jeff Mason, was in Ashgabat on August 20-22, the British Embassy in the Turkmen capital confirmed on August 24.
"Within the framework of their visit, members of the delegation were received at the foreign and defense ministries of Turkmenistan," the Turkmen state-controlled television channel, Altyn Asyr, reported on August 21.
The British visit followed up on an American effort to open Turkmenistan as a transit corridor for US and NATO troops serving in Afghanistan. Petraeus was in Ashgabat on August 14 as part of a low-profile regional tour.
Copyright (c) 2003 Open Society Institute. Reprinted with the permission of the Open Society Institute, 400 West 59th Street, New York, NY 10019 USA, wwwEurasiaNet.org. or www.soros.org.