Shahin Abbasov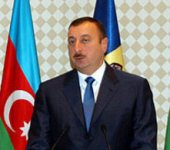 On the eve of the October 10 signing of protocols for reconciliation between Turkey and Armenia, Azerbaijani officials have muted expectations that a rapprochement between Yerevan and Ankara can translate in a breakthrough in the Nagorno-Karabakh peace process.
Azerbaijani President Ilham Aliyev and Armenian President Serzh Sargsyan continued their dialogue on the Karabakh peace process during an October 8 meeting in Chisinau, Moldova. There was no visible progress made toward resolution on several thorny issues. Nevertheless, international mediators described the talks as constructive.  
"The presidents have managed to bring their positions closer," Russian mediator Yuri Merzlyakov claimed, news agencies reported. US envoy Robert Bradtke told reporters that the two had read through the main principles for a resolution "line by line" and agreed on them. He listed those principles as including the "non-use of force, right to self-determination and territorial integrity."  

How to reconcile the cited "right to self-determination" with Azerbaijan's right to "territorial integrity" remains the largest obstacle in the way of a settlement. Another round of discussions is expected soon. 

Armenian officials insist that the October 10 Turkey reconciliation deal has nothing to do with a Karabakh peace deal, but some Azerbajani analysts believe that progress on the dispute is still possible by the end of 2009. 


Elhan Shahinoglu, head of the Baku-based Atlas research center, believes that pressure from both Armenia's fragmented domestic opposition and Diaspora about the Turkey agreement kept Sargsyan from making any compromises on Karabakh in Moldova. "However, probably some verbal agreements have been reached at the meeting which could be formalized later this year," Shahingoglu speculated. 

President Aliyev's recent statement that the talks are in their "final stage" — unusual optimism from the Azerbaijani leader — is prompting Shahinoglu to believe that the Turkish-Armenian rapprochement is synchronized with negotiations with Armenia. "Otherwise — and everyone understands it — Turkey would destroy its relations with Azerbaijan, which is hardly acceptable for Ankara," he said. 

Baku residents echo that stance. Ulviyya Mammadova, a 29-year-old project coordinator for an international organization in Baku, believes that both the rapprochement and the Karabakh talks are "interconnected." 

"Otherwise, our authorities would not react in such a calm manner to the October 10 ceremony," Mammadova said. 

That impression appears to drive analyst Shahinoglu's optimism, as well. Shahinoglu believes that by the end of the year Azerbaijan and Armenia could sign a "framework agreement" on the conflict which would stipulate the withdrawal of Armenian troops from four or five of the seven occupied regions as a first stage. The agreement would act as a prelude to ratification of the Turkish-Armenian protocols and the opening of the border by the end of the year. 

In an October 9 discussion at the Azerbaijani presidential administration's Center for Strategic Studies, French Ambassador Gabriel Keller expressed similar hopes. Discussions "between [the] Azerbaijani and Armenian presidents have intensified within the past two years and some results may be achieved by the year['s] end," Keller said, the APA news agency reported. 
.
Armenian officials have given no public indication about whether a deal is possible in the near future. In a September 21 interview with Russia's RTR channel, Sargsyan asserted that defining Karabakh's status would need to be the first step — not the last — in any peace deal with Azerbaijan. Azerbaijan, despite Aliyev's upbeat official statement, still sees those steps in the reverse order.

At an October 6 press briefing, Deputy Azerbaijani Foreign Minister Araz Azimov stated that the withdrawal of Armenian troops and the return of Azerbaijani Internally Displaced Persons to Karabakh are steps toward a resolution – not a resolution in and of themselves. "After normal life is restored there, the determination of Karabakh's status will become possible," Azimov said. 

Azimov stated that "conceptual differences" still exist in the two sides' visions of a resolution, making the negotiations "very difficult." 

He added that he "does not see a direct link" between the Chisinau meeting of the presidents and the signing of the Turkish-Armenian protocols, but emphasized that it is important that the two processes move in tandem. 

Meanwhile, popular expectations for Turkey are growing — both for a negative and for a positive outcome on Karabakh. Thirty-nine-year-old Baku lawyer Alesger Ahmadoglu argues that Turkey should not open its border with Armenia until the Karabakh conflict is resolved — "even more so now, when Armenia has tough economic problems and its government desperately needs to open the border with Turkey," he said. With the border open, Armenia would toughen its stance at the Karabakh talks, he predicted. 
Similar views were expressed at an October 8 roundtable organized by the radical Karabakh Liberation Organization in Baku. Organization leader Akif Nagi and several small opposition parties criticized the rapprochement agreement as "a serious threat to Azerbaijan's national interests."

Opposition Musavat Party leader Isa Gambar, however, asserted that it is wrong to criticize Turkey. "Turkey has done its best to support Azerbaijan so far and it will never betray Azerbaijan in the Karabakh conflict," Gambar claimed.
Editor's Note: Shahin Abbasov is a freelance correspondent based in Baku. He is also a board member of the Open Society Institute-Azerbaijan.
Copyright (c) 2003 Open Society Institute. Reprinted with the permission of the Open Society Institute, 400 West 59th Street, New York, NY 10019 USA, wwwEurasiaNet.org. or www.soros.org.