Molly Corso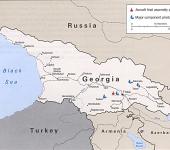 Georgia is hoping the European Union will help keep the peace in the sensitive border areas near the breakaway regions of South Ossetia and Abkhazia. But a recent tour with European Union monitors suggests that Tbilisi's expectations may be too high.
The European Union Monitoring Mission [EUMM] was originally envisioned as a means for guaranteeing that Russia and Georgia respected the six-point Sarkozy-Medvedev cease-fire plan. That blueprint brought about an end to the two countries' five-day war in 2008.
During his July 6-8 visit to Moscow, US President Barack Obama was expected to bring up with his Russian counterpart, Dmitry Medvedev, Russia's failure to fully implement the ceasefire terms. But ceasefire monitoring is not the primary task for the 246 members of the EUMM, the only observer body left in Georgia after the closure of the Organization for Security and Cooperation in Europe and United Nations missions.
On any given day, as few as five of the 20 daily EUMM patrols are "touching" the administrative borders with South Ossetia and Abkhazia, said EUMM Chief Hansjoerg Haber.
Other EUMM patrols survey settlements for Internally Displaced Persons (IDPs), or check how Georgian police operate in border areas. All three tasks — monitoring military and police in border areas and conditions in IDP settlements — are "roughly equally" weighted, Haber said.
Some assignments can reflect a monthly "theme" determined by EU member states' "political priorities," such as gender equality or treatment of ethnic minorities, continued Haber, who formerly worked as a German diplomat in Moscow and ambassador to Lebanon.

 
The results sometimes have little in common with border security. In early July, one patrol helped non-governmental organizations plan a charity concert for IDPs; another interviewed Georgian policewomen from Akhmeta, a small town in the eastern region of Kakheti, about gender equality issues. Akhmeta is located some 150 kilometers away from South Ossetia, the closer of the two conflict zones.
Patrols can also be sent to villages still further away from the scene of last year's war — along the southern borders with Armenia and Azerbaijan, two countries with which Georgia has stable relations. The purpose, according to Haber, is to illustrate the mission's "countrywide mandate."
But even within the areas bordering South Ossetia and Abkhazia, that mandate has its limitations. Patrols visiting these areas at night cannot leave "major highways," even though the borders with South Ossetia and Abkhazia are far removed from such thoroughfares. In addition, all patrols work unarmed, and after a June explosion near the Abkhaz border that killed a driver traveling with a EUMM convoy, journalists can only follow the border patrols in armored cars.
Observing compliance with the ceasefire terms — not enforcing them — is the goal, a distinction often blurred by Georgian media reports.
In one instance, the EUMM used information gathered via an alleged ceasefire violation by one side, Russia, to check a potential security concern posed by the other side, Georgia.
In October 2008, Moscow provided data from a Russian flyover of Georgian territory — a violation of its agreement with Tbilisi — indicating Georgian forces were building a military camp near Dusheti, a remote Georgian mountain town some 30 kilometers from the administrative border with South Ossetia, and within firing range of the disputed town of Akhalgori.
After getting the report, which dovetailed with EUMM patrol observations, the mission moved to ensure that Georgia dismantled the camp, according to EUMM spokesperson Alexandra Issacovitch.
Georgian Ministry of Internal Affairs spokesperson Shota Utiashvili confirmed that there was a "temporary" Georgian post near Dusheti that was removed, but he stressed that the post did not violate any agreement with Russia. "Georgia has the right to deploy its forces in Dusheti. And if we see the need, we will deploy again," Utiashvili said.
In April 2009, the mission pronounced itself "very satisfied" with Georgian compliance with a pledge to limit armaments in areas bordering South Ossetia and Abkhazia.
The local perception that the EUMM exists as a defensive mechanism against potential Russian or South Ossetian attacks seems to be entrenched. While Dusheti residents interviewed by EurasiaNet during a July 3 EUMM police patrol generally showed support for the mission, locals also questioned the effectiveness of foot patrols so far from South Ossetia. EUMM patrols cannot enter either South Ossetia or Abkhazia — a longstanding cause for concern among local residents.
That makes public outreach a pressing concern. Strolling through the town of roughly 4,000, four monitors photographed the police station, and chatted with locals about unemployment and other non-war-related topics. Two monitors spoke Russian; none spoke Georgian.
EUMM head Haber regrets that local misconceptions about the mission persist despite monitors' attempts to clarify their role. "Georgians — and especially the rural population — respect you more if you carry a weapon than if you don't," Haber said. "So, if you don't, they don't think you can effectively protect them."
Observations from the field are channeled through the EUMM head office in Tbilisi and sent on to Brussels. Reports do not go to the Georgian government, said EUMM spokesperson Issacovitch.
While the EUMM is now the only international monitoring group watching the situation along the administrative borders with South Ossetia and Abkhazia, the mission has no plans to request that its mandate be strengthened, Haber said. Thus, it seems unlikely that EUMM patrols will start operating in Abkhazia anytime soon.
This fact does not mean, however, that the EUMM thinks it is operating at a disadvantage as a first-alert system for renewed conflict. "The road system is very scarce in Georgia," commented Haber. If the Georgian military were preparing for action, "you would notice," he said.
Editor's Note: Molly Corso is a freelance reporter based in Tbilisi.
Copyright (c) 2003 Open Society Institute. Reprinted with the permission of the Open Society Institute, 400 West 59th Street, New York, NY 10019 USA, wwwEurasiaNet.org. or www.soros.org.