Joanna Lillis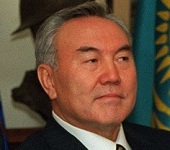 When Nursultan Nazarbayev took charge of Soviet Kazakhstan 20 years ago, he could scarcely have imagined that two years later he would be running his own country, and less that two decades later he would still be at the helm of an energy-rich state.
Nazarbayev's rule is far from over, but the 20th anniversary of his ascendancy to power as first secretary of Kazakhstan's Communist Party on June 22 gives pause for thought about his record. To many compatriots he is a national hero, the father of the nation who forged a coherent state out of disparate ethnic groups and an economic success story out of a land that had independence foisted on it as the Soviet Union collapsed. To others he is an autocrat who has overseen the transition to a get-rich-quick kleptocracy.
Nazarbayev had no easy route to the top. Born in the village of Shamalgan outside Almaty in 1940, he grew up amid post-war austerity and Stalinist rule before studying at a technical college in Ukraine. After graduation, Nazarbayev worked as a steelworker in Kazakhstan's industrial center of Karaganda — a tough job, but the ideal place for an ambitious young man to forge a Communist Party career.
He assumed his first party post in 1969 and worked his way up to become chairman of Kazakhstan's Council of Ministers in 1984 before being appointed to Kazakhstan's top job in 1989. The village boy made good was tipped as a future prime minister of the Soviet Union, but the empire's collapse propelled him into the position of president of independent Kazakhstan.

Metamorphosing from a Soviet apparatchik into a democratic president is a quantum leap, and one that Nazarbayev — like many post-Soviet presidents — struggled with. He has emphasized economic transformation over political reform, leading liberals to accuse him of an autocratic style. However, in the early 1990s, amid deep decline, plummeting industrial output, rampant power shortages and an exodus of skilled minorities, the policy won plaudits among ordinary people.
Only in 1999 did Nazarbayev stand in a contested election: in 1991 he stood unopposed; in 1995 a referendum extended his term. He won the 1999 poll and was re-elected in 2005 with 91 percent of the vote, a result that his supporters say shows his popularity, and which his detractors say was obtained through electoral fraud.
Nazarbayev's Nur Otan party won every elected seat in the 2007 parliamentary elections, giving what had already been a compliant legislature the appearance of a rubberstamp body. Subsequent constitutional amendments ruled out any recurrence of a one-party parliament, but many doubt whether opposition parties will win a significant number of seats in the next election, slated for 2012. The presidential election is due the same year, and legal amendments in 2007 — which the administration billed as liberalizing the political environment — removed term limits for "the first president," leaving Nazarbayev free to stand for life. Kazakhstan has never held an election deemed free and fair by international observers.
Nazarbayev is genuinely popular among ordinary Kazakhstanis, who applaud his political leadership in forging relative social harmony in a country where 130 ethnic groups live. Many also approve of his stewardship of the economy, feeling privileged to inhabit a country they compare favorably with neighbors. Popular pride in Kazakhstan is heightened by the country's favorable comparisons with neighboring states, which are more economically stressed and politically unstable. Nazarbayev's critics say his positive image is partly the product of the administration's tight control over mass media.
On the foreign policy front, Kazakhstan has gone from strength to strength. Astana has forged strong ties with Russia, the United States and China, and positioned itself as a regional leader. In 2010 Astana will achieve a long-cherished dream, assuming the helm of the Organization for Security and Cooperation in Europe.
The one project that is synonymous with Nazarbayev's rule is Astana, the flamboyant new capital on the northern steppe. The president's supporters say the futuristic city shows vision; critics attack it, saying the billions spent on construction could have been put to better use by creating anti-poverty programs in rural areas.
Economic success, at least until the recent financial crisis, has played a key role in boosting Nazarbayev's popularity. After weathering the 1990s with a rapid transition to a free market, Nazarbayev presided over growth approaching double digits from 2000 to 2007. Opponents say the president merely benefited from the global rise in energy prices.
All-pervasive corruption is a factor that embitters ordinary people, and Nazarbayev himself acknowledges graft to be rampant. Meanwhile, the Kazakhgate case — in which US businessman James Giffen, Nazarbayev's former adviser, is accused in the United States of funneling millions of dollars in bribes to top Kazakhstani officials — continues to make progress at a snail's pace in US federal court in New York.
Dark episodes that have dented Nazarbayev's image include the deaths of opposition leaders Zamanbek Nurkadilov in 2005 and Altynbek Sarsenbayev in 2006. Official explanations for their deaths failed to convince many observers that the truth had been uncovered.
Perhaps the biggest blight on the president's career so far involved his former son-in-law, Rakhat Aliyev, who was declared a wanted man in 2007. Two trials held in absentia pointed to a trail of vicious crimes including coup plotting, abduction and theft committed over many years while Aliyev held top state positions. The case fuelled a perception of cronyism and left many questioning why Aliyev had enjoyed impunity — particularly when a group of reformists gave Nazarbayev evidence that his son-in-law was plotting to overthrow him in 2001.
As Nazarbayev marks 20 years at the helm of Kazakhstan ahead of his 69th birthday on July 6, many are wondering what comes next for the country. For the moment, though, his grip on power looks as secure as ever, and he shows no indication of grooming a successor. Now that Nazarbayev is free to stand for president for life, many think his rule will run and run.
Editor's Note: Joanna Lillis is a freelance writer who specializes in Central Asia.
Copyright (c) 2003 Open Society Institute. Reprinted with the permission of the Open Society Institute, 400 West 59th Street, New York, NY 10019 USA, wwwEurasiaNet.org. or www.soros.org.