Christina Larson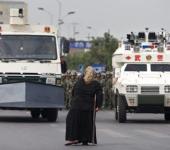 The Chinese government can put down a riot — but its heavy-handed tactics ensure that ethnic tensions will keep simmering. On Sunday, more than 1,000 Uighurs clashed with police in the western Chinese city of Urumqi — marking one of the country's bloodiest ethnic conflicts in recent years.
The government's crackdown on the Uighurs, a Turkic-speaking Muslim minority group that has long chafed under Beijing's rule, was nasty, brutish, and short. Overnight curfews were imposed. Thousands of police officers dispersed. President Hu Jintao left the G-8 summit in Europe to focus on putting out fires at home. But not all aspects of China's policies toward Uighurs and other minorities are characterized by such precision.
If you visit Xinjiang, the restive province that's home to China's roughly 8 million Uighurs, you'll realize there's a gap — often a chasm — between official intention on minority issues and what happens in practice. Sometimes the government's missteps appear to be the product of malevolence, sometimes of ignorance. The results are both tragic and absurd.
Excerpt reproduced with permission from Foreign Policy, www.foreignpolicy.com. Copyright 2009 Washingtonpost.Newsweek Interactive LLC. Read the full article at [http://www.foreignpolicy.com/articles/2009/07/09/
how_china_wins_and_loses_xinjiang]