Minxin Pei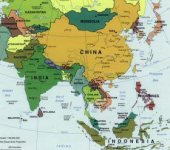 Don't believe the hype about the decline of America and the dawn of a new Asian age. It will be many decades before China, India, and the rest of the region take over the world, if they ever do.
"Power Is Shifting from West to East."
Not really. Dine on a steady diet of books like The New Asian Hemisphere: The Irresistible Shift of Global Power to the East or When China Rules the World, and it's easy to think that the future belongs to Asia. As one prominent herald of the region's rise put it, "We are entering a new era of world history: the end of Western domination and the arrival of the Asian century."

 
Sustained, rapid economic growth since World War ii has undeniably boosted the region's economic output and military capabilities. But it's a gross exaggeration to say that Asia will emerge as the world's predominant power player. At most, Asia's rise will lead to the arrival of a multi-polar world, not another unipolar one.
Excerpt reproduced with permission from Foreign Policy, www.foreignpolicy.com. Copyright 2009 Washingtonpost.Newsweek Interactive LLC. Read the full article at [http://www.foreignpolicy.com/articles/2009/06/22/