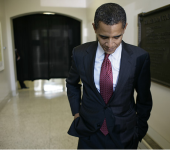 U.S. President Barack Obama is on his first official trip to China, where he is expected to discuss the economy and climate change.

Mr. Obama arrived late Sunday in Shanghai. He is to meet city leaders and university students there on Monday. He then will travel to Beijing for talks with Chinese leaders that will continue through Wednesday.
U.S. Secretary of State Hillary Clinton described Washington's relationship with Beijing Sunday as positive and cooperative. 

She told U.S. television NBC's "Meet the Press" Washington wants to have a much more comprehensive engagement. She said there have been positive results already in Beijing's approval of international sanctions against North Korea and its support for engaging Iran on its nuclear program.
China has bought more than $1 trillion in U.S. debt. Clinton said Sunday that President Obama understands the U.S. has to resume control of its fiscal sovereignty over time.

The White House says the president will talk to students about the U.S.-China relationship at a town hall meeting in Shanghai Monday. He will take questions from the audience and from people who submitted questions on various Web sites, including Xinhuanet, Sohu and the U.S. Embassy in Beijing.
The U.S. president says Washington seeks to deepen its cooperation with Beijing, not contain the Asian power.

In a major speech on Asian affairs in Tokyo Saturday, Mr. Obama said the United States welcomes China's efforts to play a great role in the world.

But he said the U.S. will never waver in speaking up for values it cherishes and said a discussion about human rights can take place in a spirit of partnership. 
15 November 2009