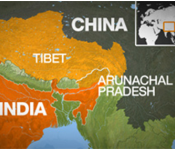 The Dalai Lama has angered the Chinese government with a visit to a Tibetan Buddhist monastery town in the remote northeast Indian region of Arunachal Pradesh. The Tibetan spiritual leader said his visit on Sunday was only a lecture tour, but China, which claims the region as its own, has described the event as a provocation aimed at harming China-India ties.
"It is quite usual for China to step up campaigning against me wherever I go," the Dalai Lama said after opening a museum at the Tawang monastery. "It is totally baseless on the part of the Chinese communist government to say that I am encouraging a separatist movement. "My visit to Tawang is non-political and aimed at promoting universal brotherhood and nothing else." The Dalai Lama, who has lived in exile in India for the past 50 years, arrived by helicopter at the monastery, which sits at an altitude of 3,500 metres.
'A blessing'
Kiren Jijeju, a local leader, said: "It is a blessing for us – his coming over here. We are very, very happy.
 

"At the same time we are a little upset that the visit has been politicised, particularly from our neighbour country China, and we would like to request them from our side that let us not politicise the entire visit – let it be a religious, as well as, a social visit."
Preparations had been under way for two months, with the monastery receiving a facelift and regular prayers being held across Arunachal Pradesh for the Dalai Lama's safe journey.
Tawang – 400-years old and the second-largest Tibetan monastery in India – holds personal history for the Dalai Lama.
He fled through Arunachal Pradesh to India from Tibet in 1959 following a failed uprising against Chinese rule. He took refuge in Tawang at the start of a lifetime of exile.
"When I escaped from China in 1959, I was mentally and physically very weak as I was suffering from dysentery," the Dalai Lama said.
"The Chinese did not pursue us in 1959, but when I reached India they started speaking against me."

Disputed region
Indo-Chinese tensions over their disputed Himalayan border – the cause of a brief but bloody war in 1962 – have risen in recent months, with reports of troop movements and minor incursions on both sides.
Bordered by Myanmar, Bhutan and China's Tibetan region, Arunachal Pradesh – a lush, forested region – is governed by India.
Victor Gao, the director of the China National Association of International Studies, a government organisation, told Al Jazeera: "China claims it is part of China and India right now is occupying that territory.
"Therefore, from the Chinese perspective, the visit by the Dalai Lama to this very sensitive and highly disputed territory is, in itself, of great concern to the Chinese government.
Gao said the Dalai Lama "has the tendency of always maintaining one side of the equation".
"However, from the Chinese government's perspective, they see the other side of the equation. That is, under the guise of religious activities, that His Holiness is engaged in political advocacy… sometimes, wading into very highly disputed issues."

'Religious matters'
But Thubten Samdup, the UK representative of the Dalai Lama, told Al Jazeera that the Dalai Lama had many followers in the disputed region and they wanted to see him.
"The Chinese always claim that, wherever he goes, whatever he does, there is always some kind of political motive behind it. This ridiculous," he said.
"These people have been waiting for a very long time and as far as his holiness is concerned most of his visit today [and] 90 per cent of his travels around the globe are on religious matters."
Manmohan Singh, the Indian prime minister, toured the region last month during an election campaign, prompting warnings from Beijing about harming bilateral ties.
07/11/2009